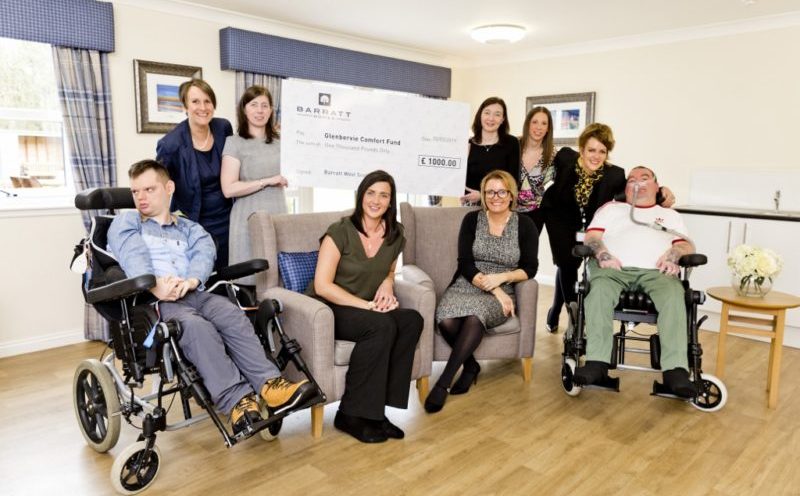 A care home in Larbert has received a £1,000 donation from Barratt Homes' Community Fund towards the cost of a new minibus.
Glenbervie Care Home, a nursing and complex care home, has 24 complex care beds and 33 elderly and frail patient beds. The facility has a range of amenities such as a bistro, training facility, and hairdresser. 
Rhianan McMurdo, senior activities co-ordinator at Glenbervie Care Home said, "We are thrilled to have received this donation from Barratt Homes; the generous £1,000 donation has been added to our fundraising pot for a minibus. By adding a minibus to our facility it will vastly improve the social life of our residents, it will allow us to take them out on more outings and to places further afield meaning their quality of care and social time at the facility is improved.
"Barratt is also extending its generosity by supporting and matching donations made to one of its members of staff who is running the Paris Marathon and raising money for our facility – thank you to Dominique for choosing us as her chosen charity."
Barratt Homes recently launched its Community Fund to provide donations to charities and organisations in the areas in which it is building new homes. David Scott, MD of Barratt West Development said, "Our vision is to engrain Barratt Homes in to the communities that we build in. We want to provide homes, communities and enhance what is already there. That's why we created the community fund.
"The fund prompts us as a business to take a close look at the communities we are operating in, identifying causes that are important to people and we can then extend some generosity to those charities, organisations or services to make sure that they continue to serve the community."