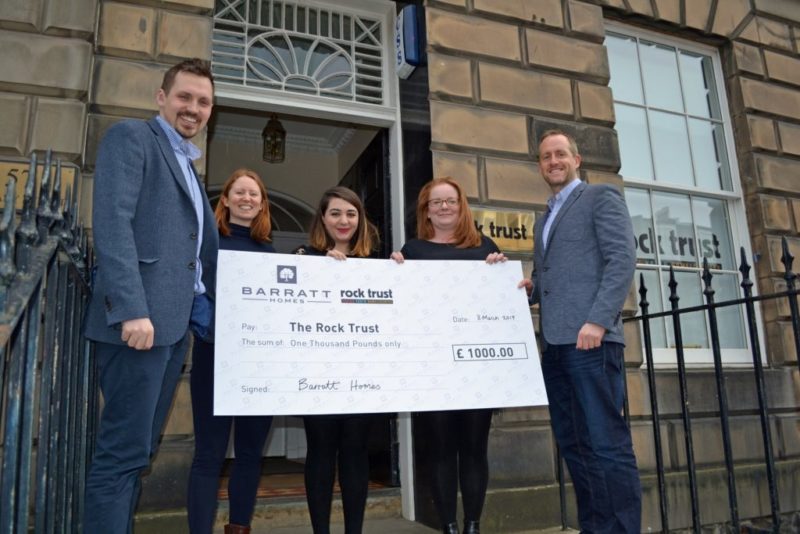 HOUSEBUILDER Barratt East has selected an Edinburgh-based youth homelessness prevention organisation as its charity partner of the year.
The Rock Trust's vision is to see an end to youth homelessness in Scotland. It aims to ensure young people have access to expert youth services which will help them avoid, survive and move on from homelessness.
Barratt has already made a £1,000 donation to the charity and will build on this throughout 2019 via a series of fundraising initiatives including a charity golf day.
Alison Condie, managing director at Barratt Homes East Scotland said, "When we heard about the amazing work The Rock Trust does to prevent homelessness and assist young people in Scotland to ensure they are supported after homelessness, we had to get involved. Working with a homelessness prevention charity fits perfectly with us at Barratt as we are passionate about homebuilding, and homelessness is an issue close to our hearts. We are delighted to be a part of the work that they do and kick off our charitable giving programme this year."
Kate Polson, CEO of the Rock Trust added, "We are delighted that Barratt East have chosen us as their charity of the year. Partnerships of this kind are vital to the work that we do, helping us to raise awareness of youth homelessness, alongside invaluable funds for our core work. We are looking forward to working with Barratt East over the coming year."