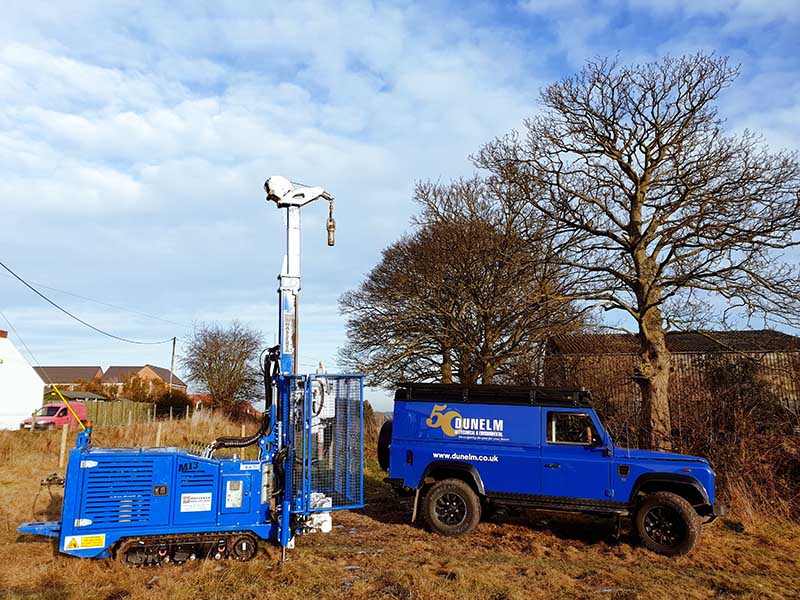 GROUND investigation contractor Dunelm Geotechnical & Environmental Limited kicked of 2019 by establishing its first base north of the border; and four months on, the Durham-headquartered firm is already looking to move into new premises due to "rapid" business uptake.
Dunelm has been operating for over 50 years, beginning with premises in Durham and expanding into Manchester. Now the firm is looking to form a closer relationship with its Scottish client base, having seen a consistent work flow in the region for the past several years.
The firm is involved in all manner of projects relating to ground investigation, ranging from house extensions costing several hundred pounds, to having recently completed its first £2 million project for a company looking to extract fertiliser mineral out of the ground. "We've had a steady stream of work in Scotland for a number of years now," James Huntington, associate director at Dunelm told Project Scotland. 
"We've made a successful model of the business in Durham and Manchester and it made sense – if we could get the right people involved – to expand up into Scotland because there seems to be plenty of work out there in terms of development and proposed construction."
And things are going well so far, according to James. The company initially set up shop in East Kilbride in January but is already in the process of moving to bigger premises in Cambuslang.  "In the four months we have been open, the take up of the business has been very rapid and that facility is proving too small now so we're quickly acting upon that," he added.
Finally having a Scottish base means Dunelm can react to changes in the scope of projects and arrive onsite quicker, James explained. "We like to be there when other ground investigation contactors aren't, then we can build upon that relationship with the customer, and particularly when Dunelm started in Durham, that's how the business was built. That's what we've transferred to Manchester and that's what we're going to pursue in Scotland as well."
The company has a good relationship  with councils throughout England, James said, which has carried over to work in Scotland. Dunelm is currently carrying out ground investigation works for a flood alleviation scheme in Grangemouth on behalf of Falkirk Council. 
James explained, "Under the council's remit it has to protect the town of Grangemouth from potential flooding from the River Carron and Lower Grange Burn. Part of that process of building flood alleviation protection measures involves doing extensive ground investigation works.
"The superficial geology around Grangemouth is quite difficult in that there are extensive very soft deposits of alluvial clay in the area, which go very deep, so anything that you build of any substance or any weight of construction requires very in-depth ground investigation works."
The Dunelm team began working onsite in mid-February and is currently carrying out supplementary investigations, which involves drilling 13 boreholes, each approximately 65 metres deep, along the route of the River Carron and Lower Grange Burn.
James explained that the Dunelm team is working closely with local land and business owners along the route to facilitate drilling access, as well as with Scottish Canals, the highway authorities and local residents. Falkirk Council has also requested that Dunelm carry out in-situ testing periodically throughout the 14-week programme, which will involve cone penetration testing to supplement the information obtained from the boreholes.
Reflecting on the importance of the Scottish market to Dunelm, James added, "It's going to be vital going forward. We've got a business plan over the next five to ten years to increase our turnover and part of that turnover and expansion is growth into the Scottish market."