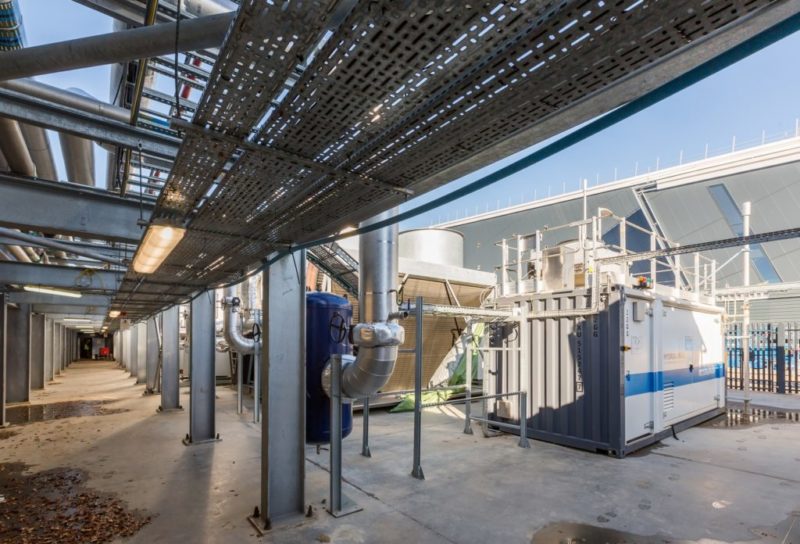 THE Event Complex Aberdeen (TECA) has achieved another milestone as the energy centre that will provide the facility with 'clean, sustainable and reliable' energy goes live. The venue, which is being delivered by Aberdeen City Council and its development partner, Henry Boot Developments (HBD), is currently being constructed by Robertson Group.
The facility will open this summer and has been tipped to provide a major boost to the local economy by hosting conferences, exhibitions and music concerts. At the heart of the energy centre's combined cooling heat and power (CCHP) facility is the largest hydrogen fuel cell installation in the UK. Originally pioneered by organisations such as NASA, fuel cell technology now provides a commercial heat and power solution, said to deliver 'significant' air quality improvements over conventional power generation methods.
An anaerobic digestion plant will use Aberdeen's food waste, agricultural crops, and waste products to produce renewable biofuel which will also feed into the CHCP.
Nick Harris, director of Henry Boot Developments in Scotland said, "At the beginning of this project, Aberdeen City Council's brief to us was that TECA should be one of the most modern and sustainable venues in the UK. After looking at all the options it became clear that generating green energy in an on-site energy centre was the best way to deliver that aim. It's fantastic to see this vision become a reality as the energy centre goes live – from now on, it will meet TECA's annual heat, power and cooling demands sustainably and reliably. Because the energy centre is based on a modular solution, it can even address seasonal variations in demand for energy and provide flexibility for future expansion."
Robertson chief executive officer Derek Shewan added, "Completing construction of the energy centre marks another significant milestone in this landmark project. With our partners, we are building a world class conference and exhibition centre and the new energy centre will ensure it is powered sustainably."