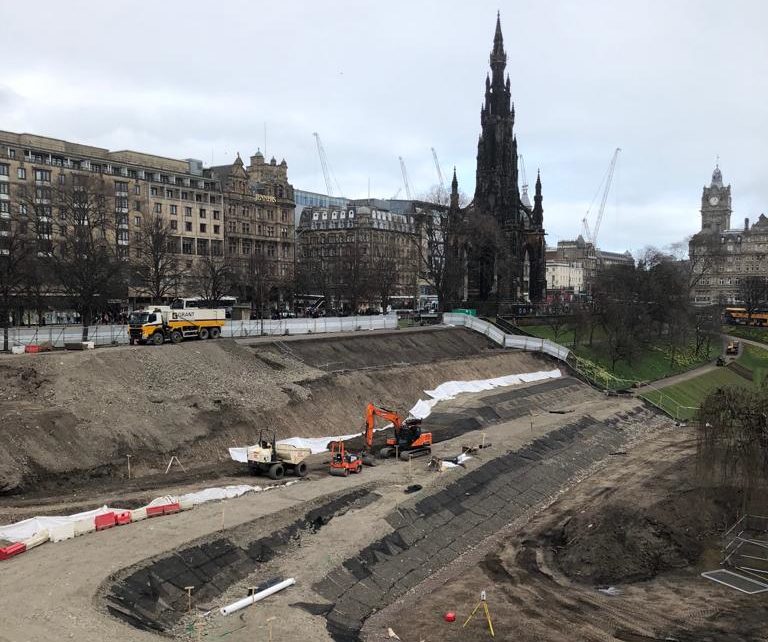 INDEPENDENT product supplier Geosynthetics is currently involved in a soil slope reinforcement project in Edinburgh as part of the £22 million redevelopment of the Scottish National Gallery.
The Hinckley-based company specialises in the provision of geosynthetic products such as geogrids and geotextiles for applications including soil reinforcement, retaining walls and erosion controls. Geosynthetics also has an internal team of design and application engineers, who provide technical support calculations for projects.
The works involve the construction of slopes in East Princes Street Gardens, which have been designed by David Narro Associates. Geosynthetics has been enlisted to assist with the reinforcement of these slopes and part of the erosion control.
Stratagrid SG uniaxial geogrid has been used to reinforce the soil and provide the angles and geometry required, Patricia Guerra-Escobar, principal designer at Geosynthetics told Project Scotland. 
The geogrid is described as using its high molecular weight and high tenacity polyester yarn to reinforce the soil onsite, which has been combined with recycled class 6F2 aggregate.
"That is basically the main function of the geogrid; to be able to reuse that class 6F2 material and get the stability of the slope that they require in the design," Patricia explained. She added that the geometry of the project proved challenging to the design. "It's not a complete continuous section, it has different steps and then it goes up."