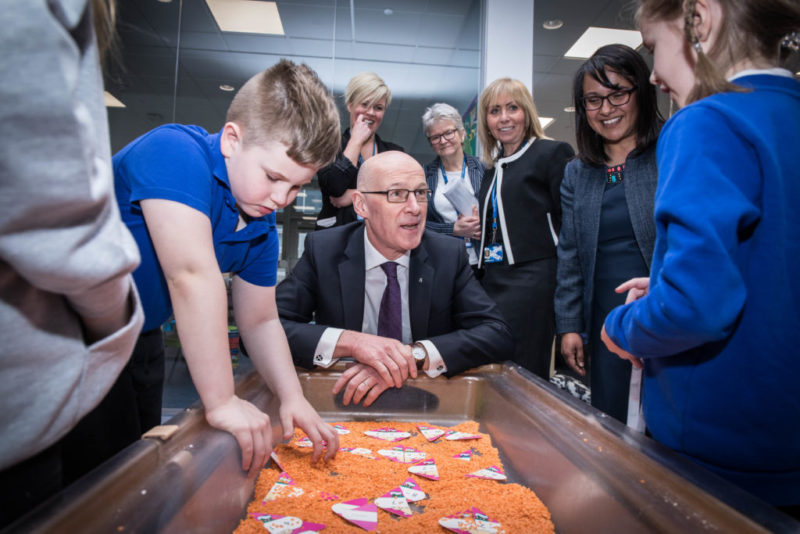 SCOTLAND'S Deputy First Minister John Swinney MSP has officially opened the £18.9 million Wallyford Primary School in East Lothian.
The cabinet secretary for education and skills received a tour of the building, met pupils and participated in a construction-themed loose parts play session in the outdoor play area.
Mr Swinney previously attended a ceremony to mark the start of construction on the school in October 2017. The project benefited from a £4.5 million grant from the Scottish Government's Scotland's Schools for the Future programme, administered by the Scottish Future's Trust.
John Swinney said, "It is wonderful to be able to come back and see the progress since the ground breaking and how the ideas that the children and staff put forward have been realised. The new, state-of-the-art Wallyford Primary School will not only benefit generations of pupils, teachers and staff for years to come with a specifically-designed learning environment they can be proud of, but the new library and sports facilities will also have wider-reaching benefits for the local community.
"This is one of 117 schools to be replaced or refurbished as part of our Schools for the Future programme, and one of two East Lothian Council school projects to receive funding. I would like to thank East Lothian Council for inviting me to open the school and for its continued commitment to its school estate."
East Lothian Council's development partner, hub South East, was responsible for delivering the primary school project, with Morrison Construction the main contractor.
The new campus features modern educational facilities, plenty of outdoor space and a new community library named after Margaret Oliphant, a 19th century novelist from the town. There are also Grace's Signs for the toilet and car park, encouraging greater understanding of 'hidden' disabilities.
Roddy Clark, hub South East's projects director said "We were delighted to be included in the party welcoming Mr Swinney to the fantastic new Wallyford Primary School today, showcasing the largest value primary school in the Hub programme in Scotland and marking the 47th educational facility successfully delivered by hub South East. We're particularly proud that as well as delivering a first class learning space for pupils and staff, this project has realised a range of benefits for the wider community, supporting a local supply chain and generating significant social value and economic impact as a result of the investment in the area."
David Wilson, operations director at Morrison Construction added, "We are proud to have delivered this fantastic school for East Lothian Council, which again demonstrates the state-of-the-art facilities our experienced team continue to build in the education sector. During construction, we invested £5.6 million into the community through the employment of local businesses. Our progressive social value programme also provided 166 days of work experience, supporting 13 apprenticeships and four trainees."