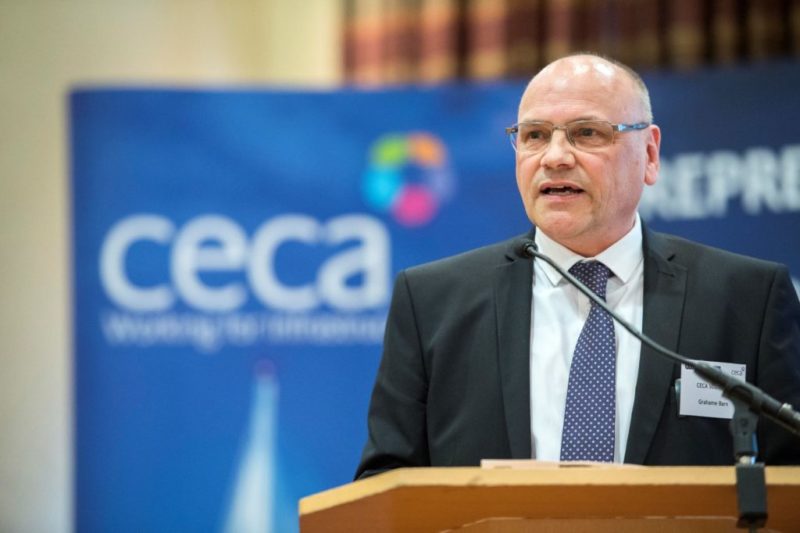 By Grahame Barn, chief executive of CECA Scotland
THERE is much to be positive about in the civil engineering sector, encapsulated recently in our CECA Scotland Awards ceremony, attended by almost 600 guests from across our industry. 
Attracting, securing and training a diverse world class workforce is a top priority for CECA Scotland and we were delighted this year to receive a record number of entries. Our winners reflect the best of our industry and at time when lack of diversity is one of the sector's most pressing challenges, it was great to present our prestigious Most Promising Trainee Civil Engineer Award to two exceptional young women, Kim McGowan and Kathleen Villaluz. 
I have no doubt our industry has a bright future and with Foundation and Graduate Apprenticeships opening up new pathways into civil engineering, we offer a wide range of attractive and well-paid career opportunities for all – what better job than shaping the future of the world around us!  
I am delighted that our sector is attracting new talent; I want to see our young people shaping Scotland's future infrastructure yet right now, the Scottish civils sector faces major challenges. The single biggest challenge is the lack of visibility of future work.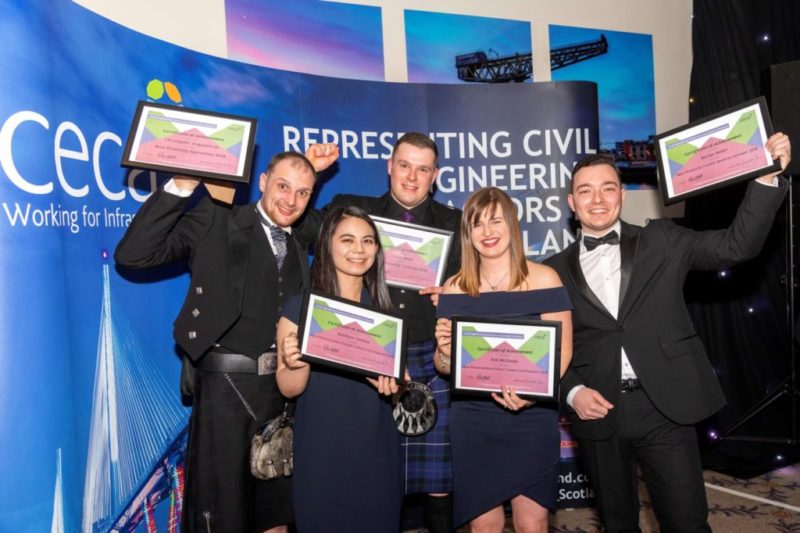 CECA's own Workload Trends Survey, conducted every quarter, has found not only that the Scottish civils sector is in recession, it has now declined for five consecutive quarters. Order book values are falling, costs are rising, workloads are reducing and profit margins are consistently low – at just 1 or 2% for many and, in some instances, non-existent. 
The majority of major infrastructure projects – the Borders Railway, Queensferry Crossing, the M8/M74/M73 and the AWPR – have come to an end and aside from the (very welcome) A9 Dualling Programme, there is little else of this scale on the horizon. But it's not just the lack of major infrastructure projects that's the problem. Many SMEs are frustrated that there are few medium sized public sector contracts (in the region of £1-£10 million pounds) in the pipeline either. This is in stark contrast to south of the border where transformational projects such as HS2, Hinkley Point and Highways England's extensive roads programme are underway.  
While the Scottish Government's recent commitment to increase infrastructure spending in the long-term is welcome, as is the new Scottish Infrastructure Commission, CECA members want to see concrete action now to establish a clear pipeline of future work or we risk losing valuable skills, particularly given the impact Brexit could have on availability of skilled workers in London and the South.
Related to the workload challenges are the challenges resulting from a procurement model that is outdated and simply doesn't support a sustainable future for Scotland's civils sector. The focus on lowest tender price and the disproportionate balance of risk contractors face, puts the focus firmly on price not quality, encouraging a race to the bottom. 
Right now, many SMEs are simply unable to bid for contracts and have little option but to work further down the supply chain. This is particularly frustrating for companies based in their local communities, who can be locked out of bidding for projects on their doorsteps, forced to join the supply chain of a Tier 1 contractor. Carillion should have been a wake-up call for the industry, yet we continue to see the roll out of large framework contracts. 
While we know politicians will always want to say projects have been delivered on time and on budget, if we want to see real change in the industry and we want to ensure a secure future for Scottish-based SMEs, then quality, sustainability and people have to be valued too. It is time for the Scottish Government to work with the construction sector to reform how public sector infrastructure projects are procured and ensure a sustainable future for Scottish-based civils contractors of all sizes and help retain skills and talent here in Scotland. 
For CECA Scotland, the benefits of long-term infrastructure investment are clear and we hope the current downturn is a wake-up call for politicians. Our own research has found that for every £1 billion of infrastructure investment, overall economic activity increases by £2.842 billion. When we put this together with the significant social and community benefits in transforming how we all live and work and in regenerating communities in all corners of Scotland, infrastructure investment is central not just to Scotland's future economic success but to our quality of life too. 
We hope the Scottish Government will listen to civils contractors and work with industry to develop a visible pipeline of future work to ensure our industry can continue to prosper and shape Scotland's future.