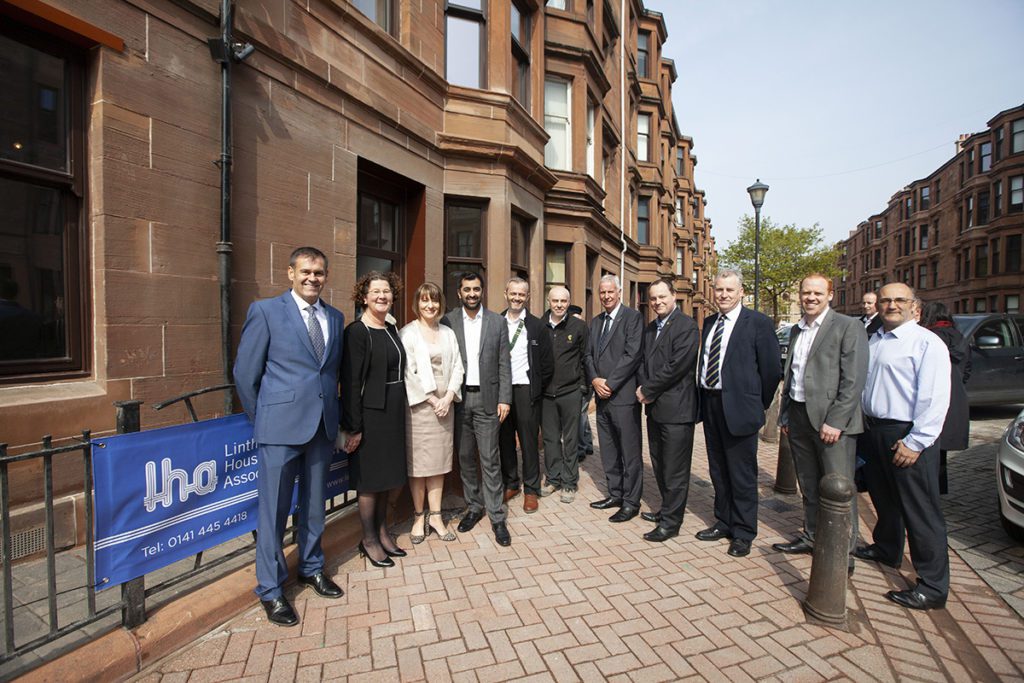 CCG (Scotland) has recently completed a multi-million-pound housing improvement contract in Govan.
The Glasgow-based firm has been operational at Hutton Drive since early 2018, acting as main contractor on behalf of Linthouse Housing Association. The works included 'comprehensive' tenement improvements and repairs to 33 properties.
The 60-week programme was supported by £4 million of investment including 50% funding provided by Glasgow City Council and the balance from Linthouse HA.
Internal improvements included the reconfiguration of some of the properties, installation of new central heating systems, kitchens, bathrooms, door and windows. Externally, gable wall insulation was installed, and stone repair and roof works were also carried out.
As well as undertaking the main construction, CCG also provided a series of community benefit initiatives that included one new job, two work placements and the donation of £1100 to local SMEs and community projects.
To commemorate completion of the works, local MSP and Cabinet Secretary for Justice, Humza Yousaf recently met representatives from Linthouse HA, CCG and members of the community for the official opening ceremony.
He commented, "I am delighted to be here to celebrate the completion of these tenement improvements on Hutton Drive. It is vitally important that we preserve traditional tenement stock in the Greater Govan area, but meeting current living standards must always be a priority.
"It's great to see tenants moving in to their warmer, more energy efficient homes thanks to the work by Linthouse HA and CCG."
CCG Chairman and CEO, Alastair Wylie said, "Our work with Linthouse HA over the last year has seen nearly 300 properties upgraded in the Greater Govan area with a third phase of renewals presently ongoing.
"With Hutton Drive, I commend the works undertaken by our Specialist Building Services team on what was a very challenging contract and the wider activity of the CCG Group in delivering a series of community benefit initiatives. CCG will always endeavour to provide quality product for our clients whilst supporting the communities in which we operate."
Councillor Kenny McLean, Glasgow City Council housing convenor for neighbourhoods, housing and public realm said, "The improvement and repair programme at these tenements in Linthouse has transformed these flats and we were delighted to fund half of the costs of this work. This is just one of many housing projects in the city driving up the quality of homes in the Glasgow, and the positive response of those living these homes shows how worthwhile the investment was."
Gail Sherriff, depute CEO of Linthouse Housing Association added, "The Association is delighted with the end-product achieved which has produced some top quality homes for our tenants, not just in terms of spaces standards, but energy efficiency through the introduction of much needed double glazed windows and highly efficient gas central heating systems.
"We very much hope that all our tenants will be happy within their newly refurbished homes. What was a very complicated contract has gone smoothly in terms of programme and costs. This has been achieved due to the excellent coordination offered by CCG's experienced site staff and a first-class service from the architect and surveyor.
"We take this opportunity to thank all who contributed, including of course, the Association's own staff. The Association is also delighted with the Community Benefits offered by CCG and for helping us to develop a good working relationship with the local high school that is to the benefit of the young people of Govan."