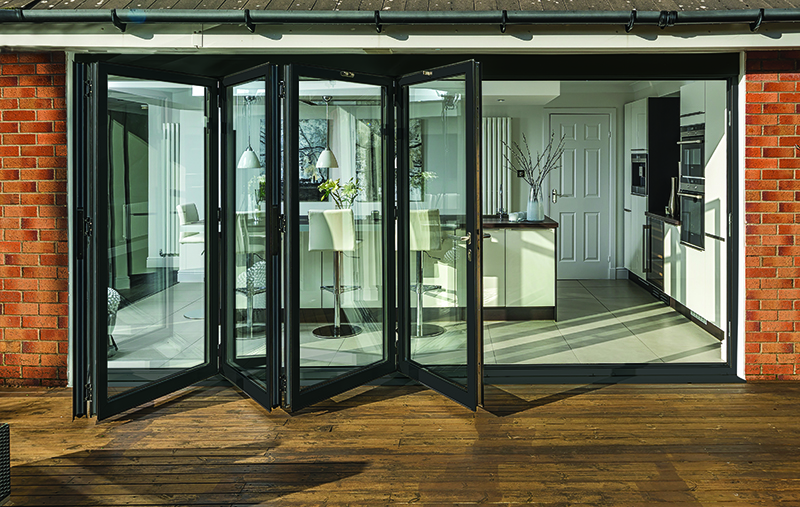 THE 1970s saw the double glazing boom with aluminium windows, sliding doors and secondary glazing featuring slender frames which, although better than the single glazed windows they were replacing, had low thermal performance with cold frames and poor or no thermal breaks, causing the frames to condensate during the winter months. 
By the 1980s they started to give way to the more efficient uPVC that had been introduced from Germany, and in the coming decades residential aluminium windows all but disappeared completely. 
Today, East Kilbride-based Scottish Bi-fold Doors says aluminium has experienced a "renaissance". 
Colin Philip, who runs the aluminium side of the business explained, "We have noticed a considerable shift over the last decade towards aluminium frames for architect-designed residential projects, which at first was mainly focused on our Schuco Bi-fold doors but has now grown into the whole residential range of products that we manufacture in our factory."
The business said developments in thermal technology mean aluminium frames are now "equally as efficient" as their uPVC counterparts and being a stronger and rigid material, the glass area is dramatically increased and offers greater maximum opening sizes than are possible with uPVC.
"There is a requirement for a cleaner, more modern and slimline look in today's high-end market and all this is achievable with modern aluminium windows and doors, with our market-leading Schuco system being one of the slimmest available," Colin added.
Far from the silver anodised look of the past, today aluminium windows and doors are available powder coated in any RAL colour and don't expand or contract when the temperature changes. 
Colin explained how the company became involved in branching out into aluminium. "Scottish Bi-fold Doors is part of the Quality Trade Windows Group, started by my dad, Lex Philip, 25 years ago. We were, and still are, a uPVC trade supplier but were frustrated at the lack of a dependable bi-fold door. The quality of uPVC wasn't of a high enough standard, due to the extremely thick sightlines and the expansion and contraction in the profile. In the summer the doors wouldn't open as they were jammed shut and in the winter the wind was rattling through the gaps that appeared."
Several years ago the firm started manufacturing Schuco Bi-folding doors, and it is the growth in the aluminium side of the business that is responsible for the move to a larger premises double in size of their previous one.
"We saw the quality and how well engineered the Schuco bi-fold door was and we have since branched out into manufacturing lift/slide doors, entrance doors, casement and tilt and turn windows in the Schuco system," said owner Lex Philip. "The move to our larger premises and investment in new machinery has cost around a quarter of a million pounds. As a long-standing family business we have future-proofed the company and enabled us to grow the business and build upon the success of our aluminium manufacturing whilst still having the factory space to continue to serve the needs of our long standing uPVC trade customers."