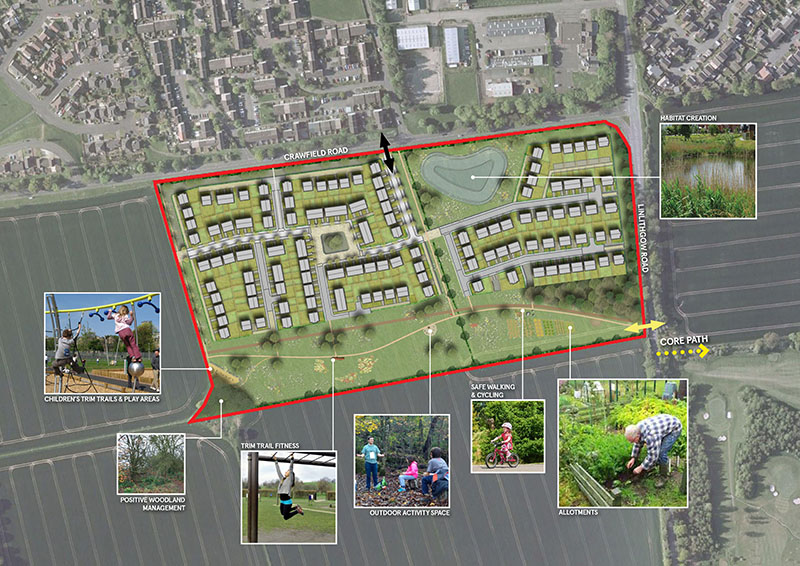 PROPOSALS are being put forward for a new 225-home development in Crawfield Road, Bo'ness.
AWG and Mactaggart & Mickel are behind the plans, which include provision for 75 affordable homes as well as 'significant' areas of open space and landscaping. New paths, cycle routes and links will also be created, while proposals are also being looked at to improve safety and address flooding issues in the area.
A Proposal of Application Notice (PAN) has been lodged with Falkirk Council and shared with Bo'ness Community Council and local ward councillors. A series of community engagement events will take place over the next few months prior to the submission of a formal planning application.
A spokesperson for the developers said, "There is a recognised shortfall in the number of homes being built locally over recent years, particularly when it comes to affordable housing. Some people may believe that many potential buyers would come from outwith the area, but recent sales by other housebuilders indicates that a majority of buyers are local and that there is strong local demand.
"Prior to lodging a planning application for the site we aim to engage extensively with the local community, ensuring that we are delivering a development that is appropriate to the housing requirements of Bo'ness. Our proposals will serve to enhance the local area and address some of the outstanding issues that exist around flooding and road safety. We look forward to engaging with the public and discussing these matters further."