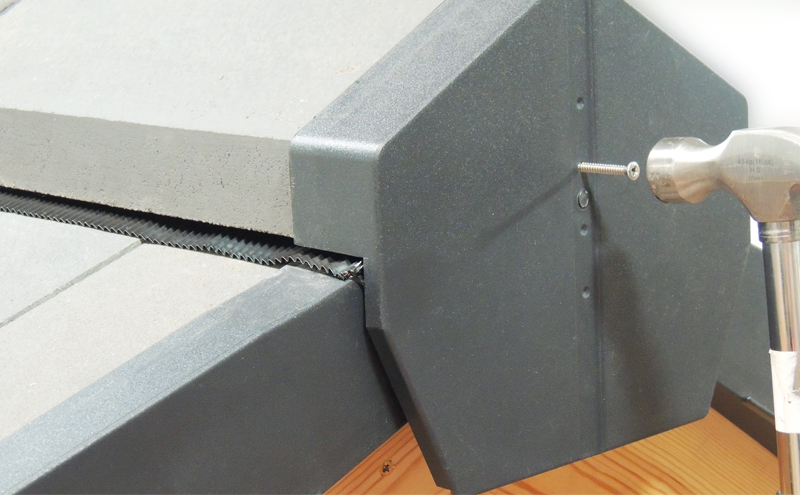 PITCHED roof tile manufacturer Russell Roof Tiles has enhanced its dry-fix roof solutions to be fully compliant with the latest standards and regulation revisions. 
The company, which has a base in Lochmaben, said the enhancement would assist the ease of installation and ensure customers are meeting the revised BS 8612 – the British Standard for dry-fixed ridge, hip and verge systems for slating and tiling – with "high quality and innovative" products.
The standard is now also recognised by the National House Building Council's (NHBC) 2019 standards and covers all aspects of pitched roofing by setting out product requirements.
To ensure full compliance, Russell Roof Tiles has developed a specific stainless-steel dry verge system screwnail with a TX20 countersink head. This is said to ensure the dry verge fixing is secure to meet all weather conditions across the UK.
Russell Roof Tiles' dry verge eaves stop ends, which are fitted on the rafter ends, have also been enhanced. They now have two additional fixing holes incorporated to aid a greater range of fixing when used in a variety of eave situations. The manufacturer said these improvements were "key" to ensuring that roofing accessories and tiles remain sustainable and durable in all weather conditions.
Mark Parsons, technical director at Russell Roof Tiles said, "Roofing guidelines and standards are regularly changing to meet the changing weather conditions and need for sustainability. At Russell Roof Tiles, all our products have a proven track record as we understand the importance of keeping ahead of updates and trends, with innovative new and improved products.
"The latest investment in dry-fix will allow us to continue delivering high quality products for customers, while ensuring they benefit from long-lasting, reliable pitched roof solutions."