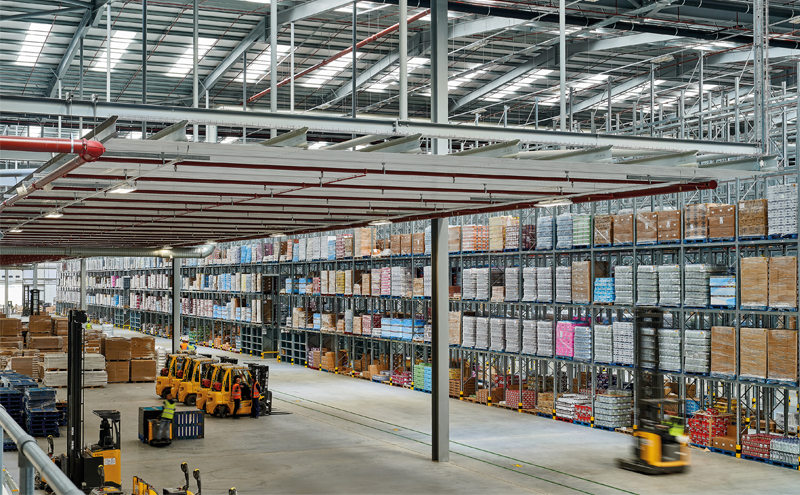 As demand for warehouse space increases, Adrian Lukic, sales director at Brett Martin, explores the advantages of installing rooflights in wide span buildings
THE demand for warehouse space has nearly doubled since 2008 according to property research firm CBRE. Of the 235 million square feet of warehouse space that has either been leased or purchased in that time, 60% is used by retailers, an increase of about 130 million square feet. With this growth caused by online retailers, demand has increased for more and larger warehouse space which is needed for storage and distribution, at the expense of general retail space. 
Consumer behaviours are changing. The market for online shopping is growing at a remarkable rate and in the UK it is more popular than any other EU country. This new route to market has presented many challenges to retailers, not least the impact on the physical retail distribution network. Supply chains and logistics processes are evolving and as a part of this network, E-retailers need to create warehouses which offer long-term cost efficiencies.  
ENERGY EFFICIENT WAREHOUSES
Building owners are becoming more switched on to the benefits of installing rooflights in wide span buildings, which is often the most effective way of bringing natural daylight deep into the interiors of these buildings. This has a positive impact on energy consumption by cutting energy costs whilst also improving the carbon footprint of the building.
Recent research demonstrates that increasing rooflight areas will have a beneficial effect on carbon emissions by reducing the demand on artificial lighting. This is contrary to a previously held view that larger rooflight areas resulted in heat loss and consequently higher energy use. Advances in rooflight thermal efficiency have changed the balance in favour of larger areas of rooflights.
SHEDDING DAYLIGHT
Using a rooflight manufacturer which has a wide range of products will ensure the most reliable and cost effective option can be selected for any roof type or project requirement as they can offer unbiased advice on differing product types and applications to ensure that the project's requirements of performance, aesthetics and budget is most appropriately met. A company with a more limited range of products could be more likely to recommend only the product that they supply rather than what is best for your project. As there is wide range of metal and fibre cement roof cladding systems in the market, this will influence the choice of rooflight system. In large span buildings where budgetary constraints are most important, in-plane profiled rooflights in either site, or factory assembled formats are most common.
Composite panel rooflights are a good illustration of a ready-to-fit rooflighting solution that is proven to deliver daylight into a vast array of industrial, commercial and leisure buildings. By providing an excellent combination of light diffusion and transmission, triple skin composite panel rooflights such as Energysaver from Brett Martin Daylight Systems will ensure these mega-sheds remain cost and energy efficient. Lightweight and easy to fit, Energysaver composite panel rooflights offer a range of profile options to meet a myriad of project requirements.  
For example, the use of in-plane GRP rooflights from Brett Martin is playing a significant part in the performance of a 'super-warehouse' in Avonmouth and demonstrates how a building and its occupants perform better in the natural light.  Home to a leading homeware retailer, the huge 111,000m² warehouse at Central Park is one of the largest distribution hubs in the UK. It is thought to be the biggest single building in the south west; the equivalent size of 15 Wembley Stadiums. Central to the design of the £100 million building was a rooflight solution that minimised the use of artificial lighting and reduced running costs associated with such an enormous building. The specification for the 80mm-thick composite panel roof included 13,000m² of Brett Martin GRP Trilite Energysaver rooflights to bathe the building in natural sunlight and achieve an excellent U-value of 1.3W/m²K. 
For a project of such magnitude, it is testament to the skills and dedication of 'full-envelope' contractor, FK Group, and the usability of the factory-assembled, triple skin Brett Martin insulating rooflights (FAIRs) that the warehouse application was completed within an impressive 16-week timeframe. The FAIRs were built-up using a Trilite GRP sheet (3.0kg/m²) to ensure fast, reliable weatherproofing and allow the highest-quality natural daylight into the interior of this widespan building.
GRP allows an even spread of daylight, illuminating the warehouse while eliminating the risk of hot spots and solar glare which could disturb the retailer's staff. Designed to the same depth as the composite roofing system, Energysaver's flat liner panel sits flush with surrounding metal panels for excellent aesthetics and a neater, trim internal appearance. Delivering U-values from 1.9W/m²K down to 0.9W/m²K, they offer high quality diffused natural daylight, thermal performance and ready-to-fit convenience for widespan buildings that have become commonplace across the UK.
GOOD FOR STAFF
Science supports the benefits of natural daylight in inspiring an uplifting effect upon those exposed to its rays, particularly in workspaces such as these mega-sheds. Rooflights help facilitate this 'real' feelgood factor, offering an attractive solution to daylighting requirements whilst providing the required insulation values which allow buildings to meet energy saving targets and reduce running costs.
With the demand for e-commerce buildings increasing as retailers take their businesses online, warehouse design has become an important issue.  Warehouses will have to accommodate a wider range of activities and become more sophisticated and more tailored to individual occupiers.  However one thing will remain a constant, the need for energy efficiency and daylight to ensure these mega-sheds remain cost and energy efficient.