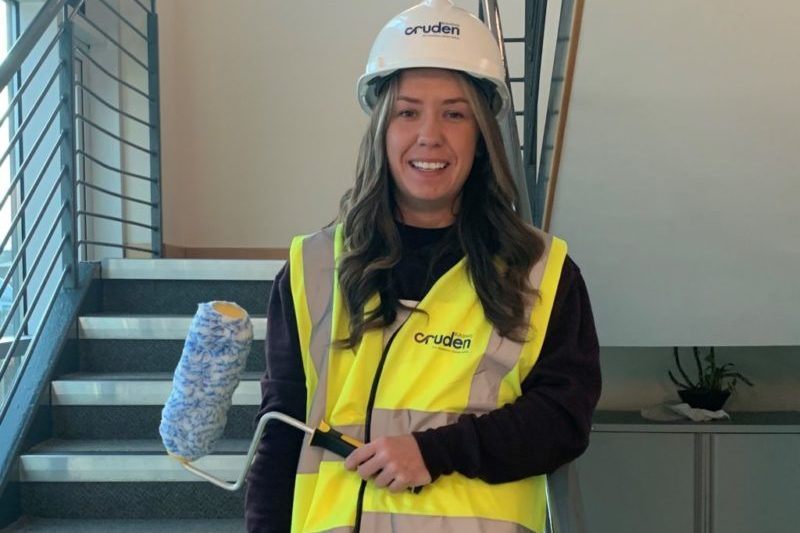 By Lisa Gordon, an apprentice painter and decorator with Cruden Building
FROM a very young age I wanted to be a painter and decorator. Granted, it's not the typical career aspirations of a young girl, but I was inspired by my uncle – a painter and decorator who used to let me watch him paint and help out sometimes. Quite simply, I thought he had the best job in the world.
However, when I decided to leave school in fifth year, I didn't have the same confidence to pursue my ideal job. Instead, when a friend suggested that, like her, I try dental nursing, I decided to give it a shot. Four years later I had learned a lot, but I also realised that a future staring into open mouths was not for me.
It was my brother, an electrician, who helped me get on the right path and gave me the encouragement that I needed to follow my dream of becoming a painter and decorator. I applied to various companies and was lucky enough to get an interview and successfully secured a job with Cruden Building.
I'm now in my second year of a four-year Modern Apprenticeship in Painting and Decorating at West College Scotland. I attend college about one week in every month and it's great fun getting together with my fellow students. Although I'm one of only two girls on the course, I don't find any barriers to being a woman in construction.
In fact, it's quite the opposite. I am very much made to feel part of the wider 'Cruden family' and I am one of nearly 90 apprentices throughout the Cruden Group. The company has really invested in developing their employees through the Cruden Academy it is exciting to see so many people successfully progress within the company.
My day-to-day job involves being on site for about 8am and I work with another painter and decorator on preparing woodwork, preparing the walls and painting and decorating a wide range of homes. We finish around 4.30pm on Mondays to Thursdays and at 3.30pm on Fridays.
I really like working on site. It's not the cold or muddy job that some people would believe. I find it really rewarding playing my part in the bigger picture of delivering modern new homes for so many people to enjoy.
As well as learning a trade, I also get paid while I study. My friends that have gone to university are all envious of the fact that I'm earning whilst learning and they still have to try and find a job after they graduate.
I'm very passionate and proud to be part of this industry. Although we've still got a long way to go until more young people, and in particular girls, put a working in construction at the top of their career wish list, I think the message is slowing sinking in. The construction sector provides a huge array of roles and opportunities – from plumber to project manager, engineer to electrician and sales agent to surveyor.
I feel very lucky that I am getting this fantastic opportunity, doing a job that I love and being rewarded for it. Hopefully once I complete my apprenticeship, I would like to stay with Cruden and progress through the company.   One day I would like to become an interior designer, but in the meantime, I'm honing my craft and painting a very bright future for myself.