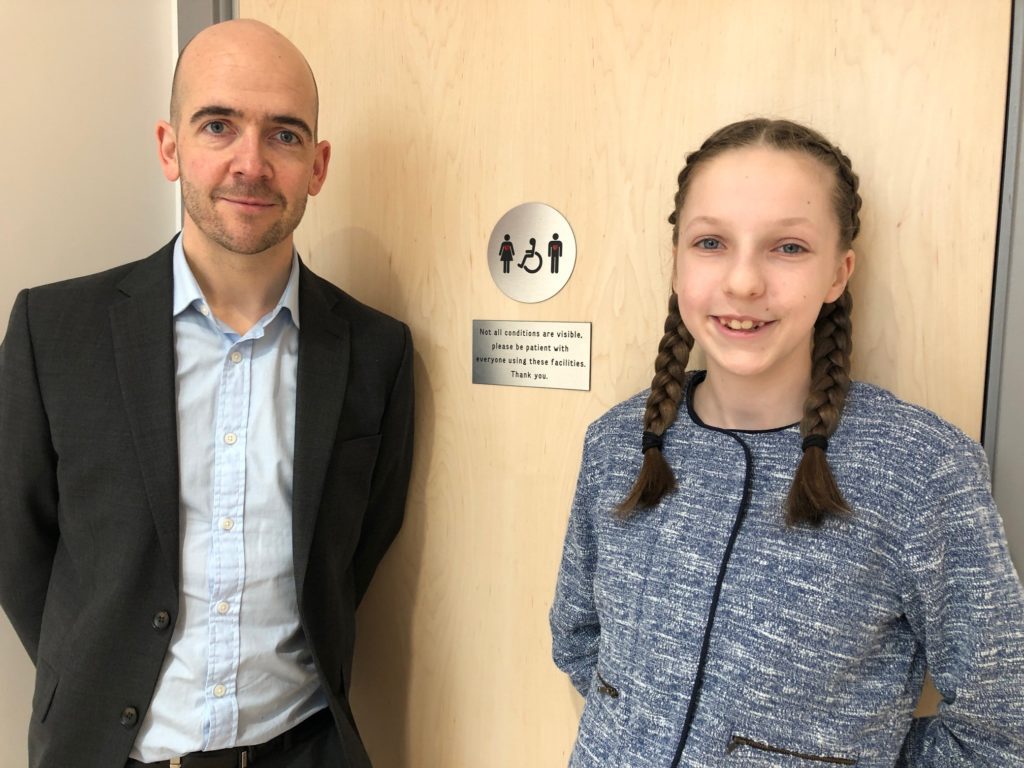 MORRISON Construction has installed Grace's Signs that symbolise 'invisible disabilities' at the new £18.9 million Wallyford Primary School for East Lothian Council.
The contractor has shown continued support to Grace Warnock, 13, from Prestonpans in East Lothian, who is campaigning for more inclusive disabled access signage. The teenager designed the sign after she was criticised for using a disabled toilet for her Crohn's disease.
The sign depicts two people with hearts with a wheelchair in the centre, to symbolise invisible disabilities that may not always be obvious. Grace toured the new school, which opened earlier this year, to see her signs installed on toilet doors and in the carpark.
Morrison Construction previously installed the signs at the £32 million West Calder High School, also delivered with development partner hub South East. Grace's Signs have been adopted at various locations across Scotland and abroad including Holyrood and Edinburgh International Airport.
Allan Smith, Morrison Construction senior design manager commented, ''It is wonderful to see Grace's Signs installed at another Morrison Construction education project, continuing our support for the campaign and promoting an inclusive school culture to benefit pupils who need to use accessible toilet facilities.
''We planned to use Grace's Signs at Wallyford Primary School after installing the signs at West Calder High School and worked closely with Grace to extend these to car parking signage. East Lothian Council were more than happy to support the use Grace's Signs for this project.''
After visiting the primary school, Grace said, ''I hope my sign will be used in as many schools as possible to teach children about invisible disabilities. It was great to take a tour of the new school and see my sign inside and outside in the carpark. It is the first time my sign has been used in a carpark so that was exciting to see.''
Roddy Clark, projects director at hub South East added, "We're delighted that through the Wallyford Primary project we are again able to support Grace's campaign. Grace is an inspiring young person and we hope that through these signs she can inspire other young people to learn more about invisible disabilities.
"We'd like to congratulate Grace on her campaign and we look forward to seeing her signs in other facilities across the country in the future."