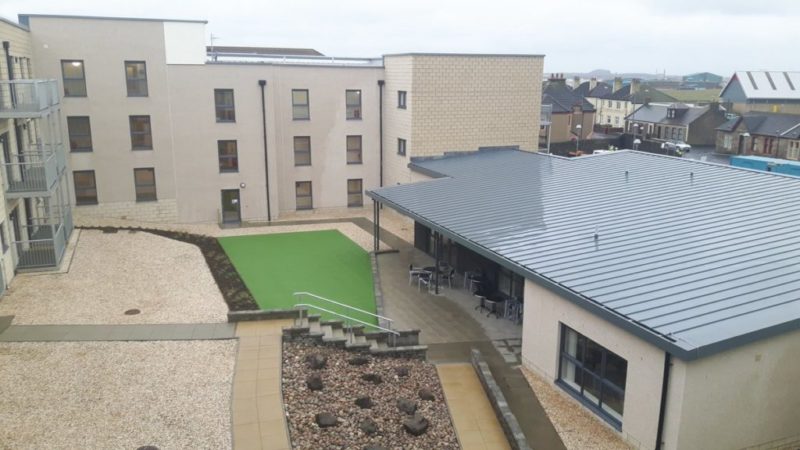 HUB South West has handed over one of its first residential projects in Saltcoats, Ayrshire.
The first residents have moved into the 36 new homes in a landscaped courtyard-style setting on the site of the former Canal Court complex. The £6.4 million project for North Ayrshire Council comprises one and two-bedroom flats with communal areas including a lounge, dining room, private courtyard and social services hub.
The redevelopment of Canal Court was designed by North Ayrshire Council's in-house design team, specifically to meet the future needs of older residents.
Until now, hub South West had focused on major infrastructure work in the health and education sectors. The organisation will now carry out further housing work for the council, with work to start on a new development in Largs.
Michael McBrearty, chief executive of hub South West said, "Canal Court was a new challenge for us and the successful partnership with NAC and Ashleigh Building Ltd proves that our business model is transferrable between construction sectors. hub South West has achieved its current level of delivery through a focus on partnership working, stakeholder consultation and the sharing of design and build expertise. Crucially, the majority of our work packages have been awarded to companies in our territory."
Jim Montgomerie, cabinet member for place at North Ayrshire Council added, "This is an amazing facility which will allow our residents to live in high quality, sustainable and fully accessible homes. In the past few years we have refurbished or redeveloped a number of sheltered housing complexes across North Ayrshire and the results have been first class – the residents have given us hugely positive feedback on their new surroundings."
Euan Clark, commercial director at Ashleigh Construction commented, "There was a truly collaborative approach throughout the development and construction phases, and the quality of the completed facility is testament to the efforts of all involved."