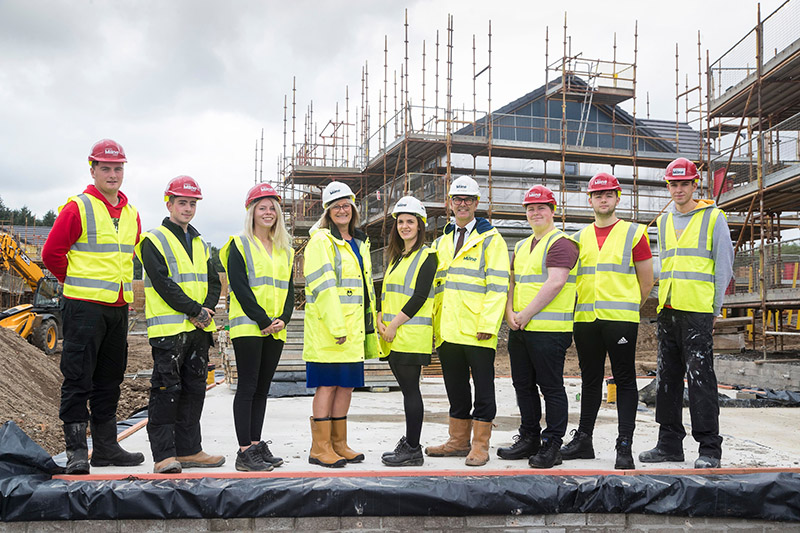 In celebration of International Women's Day and Women in Construction week, Terri Tully, resource manager at Stewart Milne Group, reflects on her positive experience working within the construction industry
AT a time when equality and diversity are making real leaps forward, the construction industry is still playing catch up. Less than 1% of the UK construction workforce is female and, even when you include office-based roles, such as sales and marketing, architects, planners and surveyors, the number of women working in industry is still less than 20%.
According to research, women are unlikely to consider a career in the construction industry because of its reputation as a male-dominated sector and the fear that their career progression may be stifled because of bias, unconscious or otherwise. In 2018, research revealed that 73% of women working in construction have either been subject to or witnessed discrimination in the workplace.
A lot of the issues faced by women in the construction industry are mirrored in other sectors. As society evolves, and gender equality is now regarded as the norm, some of these challenges the construction industry once faced are diminishing and there is better recognition of ability and skill, regardless of gender.
This is certainly true at Stewart Milne Group. When joining the company, I found that my team gave me support where needed and did not treat me any differently to my male counterparts. The team provide the same welcoming and supportive attitude to everyone who walks through the door.
This might be because Stewart Mile Group is working hard to address unconscious bias and genuinely recognises the role women can play. They run equality and diversity workshops. We pride ourselves on treating employees the same, regardless of gender, race, ethnicity and cultural background.
I joined Stewart Milne Group as a construction co-ordinator in 2014 following a six month break from the oil and gas industry. In the beginning my role was quite administrative heavy, however my line manager quickly recognised my abilities and promoted me to my current role as Resource Manager, where I manage over 140 site construction workers. Before joining the group, I'd never considered a job in construction, but that's only because I had no idea of the breadth of jobs available and the attractive career progression it can afford.
Since being part of Stewart Milne Group, I've seen first-hand the alternative routes into the industry they offer as well as the career progression on offer. The introduction of the fast track Modern Apprenticeship in Construction Site Supervision and Graduate Apprenticeship in Construction and the Built Environment programme are examples of this. Previously site supervisors would be required to work on-site in a manual role before progressing to a managerial position. This can often deter people, particularly women, who have an interest in construction but do not feel that they are suited to a labour-intensive role.
Over the years I have seen incremental changes within the sector. In addition to the rise in females joining the industry, taking on roles that are traditionally seen as male-only, and an increase in women returning to work after having children, there has also been an increase in males employed in roles that are more typically associated with women, such as sales and marketing and HR.
That said, I still think more needs to be done to promote the opportunities available to women in construction. And this needs to start at school. Pupils, parents and teachers still see the industry in terms of "trades" where workers are predominantly based outside, on-site in the wet and cold with hard hats. While there is nothing stopping women taking up a trade – and Stewart Milne have examples of female trades apprentices – there needs to be a greater understanding of the other roles available in construction and the career progression.  Breaking down this misconception of the industry and targeting females as well as males at a younger age is vital.