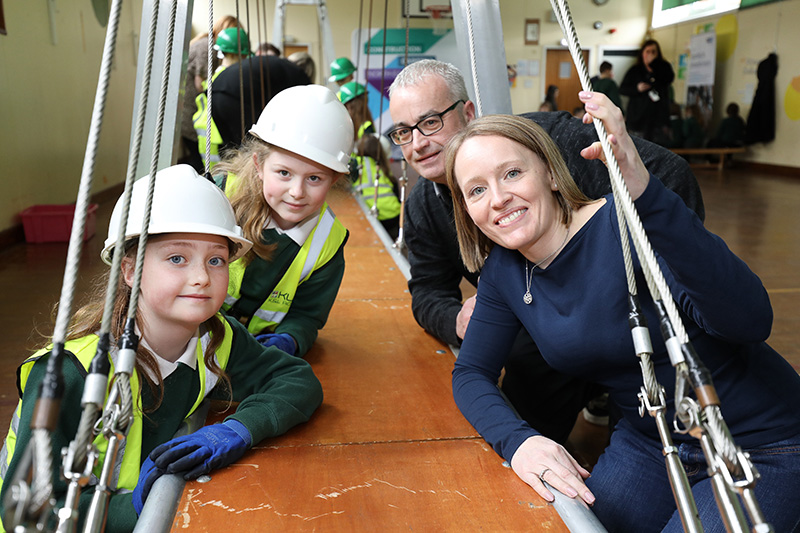 ABERDEEN primary school pupils recently gained an insight into construction careers thanks to team-building sessions hosted by not-for-profit organisation, Grampian Construction Training.
The Fernielea Primary School event, run in partnership with Developing Young Workforce (DYW), involved more than 40 pupils being tasked with building a 15 metre long, 2.8 metre high bridge. The youngsters had to draw on skills including project management, communication and time management.
Representatives from local businesses were on hand to provide information, including staff from Safety Scotland Ltd, Leiths (Scotland) Ltd, CHAP Group and Zero C Holdings. CITB personnel were also present, along with those from the Institution of Civil Engineers, who provided the bridge.
Grampian Construction Training's Michelle Forth said, "There are quite a few myths out there about the construction industry and people aren't always aware of the number of varied and exciting career opportunities that exist for school leavers and college and university graduates alike. For example, a wide range of jobs relating to finance, marketing, business development and IT can be found across the industry, as well as those to connected to a live construction site or workshop such as joiners, electricians and plumber.
"New technologies also continue to play a really important part in how we work, with Building Information Modelling (BIM), Computer Aided Design (CAD) and even nanotechnology being widely used. Plus many construction careers are focused on green technologies and sustainability. Finally, with more than 320,000 women working in construction in the UK, it's an industry that is attractive and accessible to all."
Lisa Walker, headteacher at Fernielea Primary added, "It was great for our pupils to gain some insight into the opportunities that exist within the construction industry. The fact that the sessions were both practical and informative was great, and there's no doubt the pupils came away with a much greater understanding of the varying career options available to them either immediately after school or following further education."