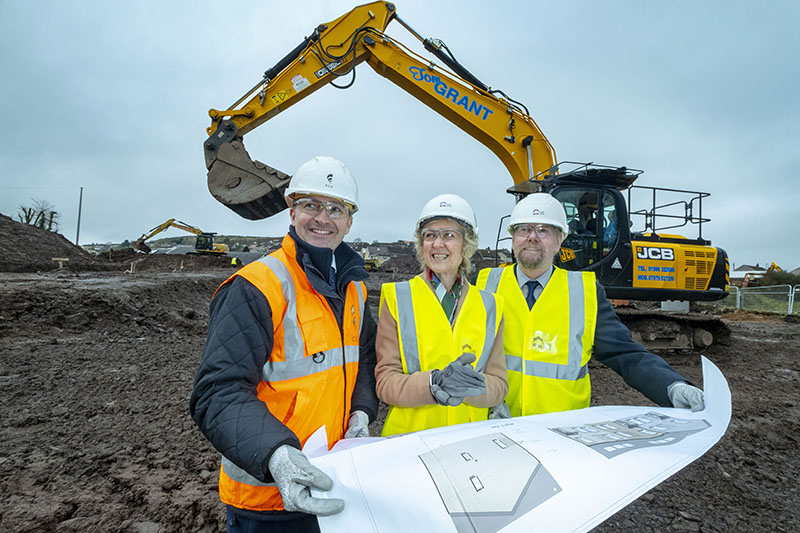 OAK Tree Housing Association has announced plans to build more than 200 new homes for social rent across four locations in Greenock, representing an investment of £33 million, including £18 million from the Scottish Government.
Work on each site is expected to start this year, with completion by 2021. The homes will include a mix of detached, semi-detached and terraced houses, as well as cottage flats.
Oak Tree has already commenced works at Auchmead Road on the former site of Ravenscraig Primary School. CCG is building 36 units, comprising 28 two, three and four-bedroom houses, along with eight cottage flats.
Sally Thomas, chief executive of the Scottish Federation of Housing Associations, recently joined Oak Tree chief executive Nick Jardine and CCG MD David Wylie on a tour of the site.
Nick Jardine said, "We are delighted to welcome Sally Thomas to Inverclyde as we embark on this significant new build programme at Auchmead Road, with Bow Farm, Ravenscraig and Strone Farm developments coming on stream during 2019. This is all part of our drive to continue to identify key development opportunities that can help us improve the lives of our tenants and wellbeing of our communities, while delivering on the strategic housing objectives for Inverclyde. It will also mean an enhanced social housing portfolio for us, bringing our total stock to nearly 2,000 properties and contributing towards the Scottish Government's current target to deliver 50,000 affordable new homes across Scotland."
Sally Thomas added, "It is fantastic to visit this site which will see 36 new affordable good quality homes built on it. Oak Tree is playing an important part in contributing to the Scottish Government's target of delivering 50,000 affordable homes by 2021. Our sector's focus has to be on delivering the government's affordable housing programme now and planning for the future, beyond 2021. We need the right homes, in the right places, in order to meet people's needs at every stage in their lives, and Oak Tree's new homes will help to fulfil this."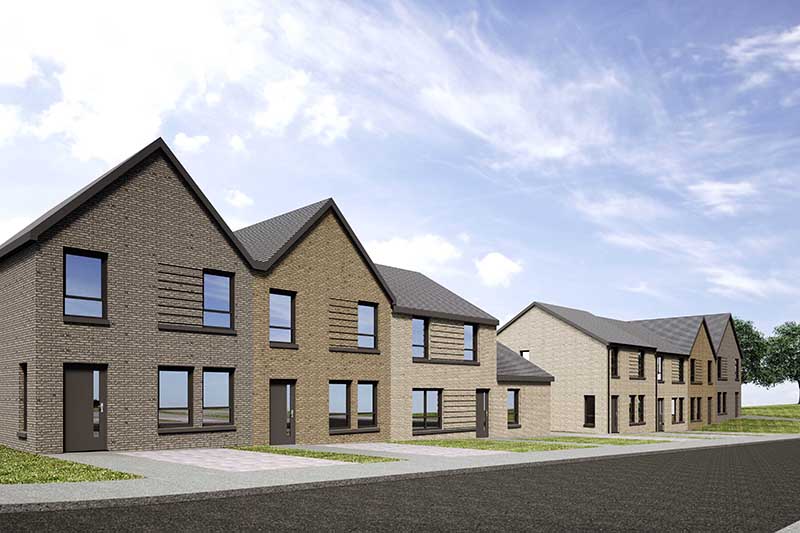 David Wylie commented, "CCG are delighted to have commenced works at Auchmead Road where we are providing high quality, energy-efficient homes for the community of Greenock. As a direct result of the development, CCG will also be providing a series of community benefit initiatives including work placements for community members, as well as curriculum support for local schools."
Of the other sites, Ravenscraig will see 71 new homes being built as a turnkey project with the Link Group.  Work will start early summer along with the Strone Farm development, featuring 16 properties. The largest of the four new developments will see 77 homes being constructed in the Bow Farm area at Tweed Street and Tay Street. Work on that site is die to begin later in the year.