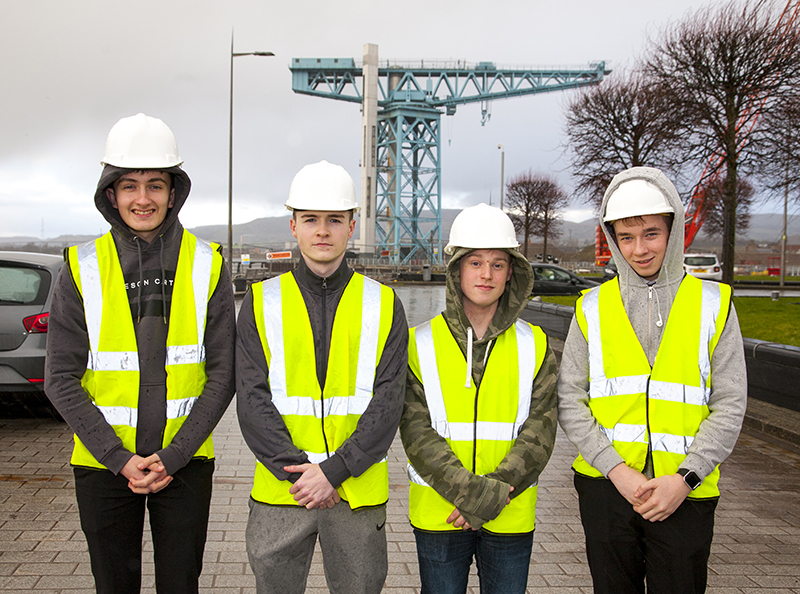 SENIOR school pupils from West Dunbartonshire have been gaining work experience at the £250 million Queens Quay regeneration project on the site of the former John Brown's shipyard in Clydebank.
Skills Development Scotland developed Foundation Apprenticeships, which are taken alongside other subjects and lead to a qualification at the same level as a Higher (SCQF Level 6). Pupils spend part of the school week in a workplace.
The six students gaining work-based learning at Queens Quay are taking Foundation Apprenticeships in civil engineering with West College Scotland. Working with I & H Brown, Muir Construction, and George Leslie at Queens Quay, the students are gaining experience of what the role of a civil engineer entails. The learning includes involvement in many aspects of the works, including the marine, road and piping works.
Four of the students attend St Peter the Apostle High School. Sean Wilson (17), Paul Martin (17) and Jack Hepburn (17) are working on-site with I&H Brown, and Liam McEvoy (17) is working with Muir Construction. Gregg Cochrane (17) and Andrew McLachlan (18) are both students from Clydebank High School and are working with I&H Brown and George Leslie.
Andrew McCall, West College Scotland's foundation and apprenticeship employer engagement coordinator said, "It's fantastic to have the Queens Quay development right on our doorstep. It's opening up so many opportunities for the local community and for students who have their sights set on careers within the construction and engineering sectors. My role is to liaise with companies within the industry to see where we can best place our students. There has been a real willingness from the companies working at Queens Quay to get involved, which means that the students are getting exposure to a diverse range of work-based activities."
Graeme Hendry, Skills Development Scotland national manager – development and delivery for Foundation and Graduate Apprenticeships added, "Foundation Apprenticeships are closing the gap between the classroom and the workplace, with pupils seeing the benefits. Employers are telling us that pupils who have taken a Foundation Apprenticeship are more attractive candidates for apprenticeship jobs. The Foundation Apprenticeship opportunities through Queens Quay will offer young people in the area the chance to learn future skills needed to support the local economy."