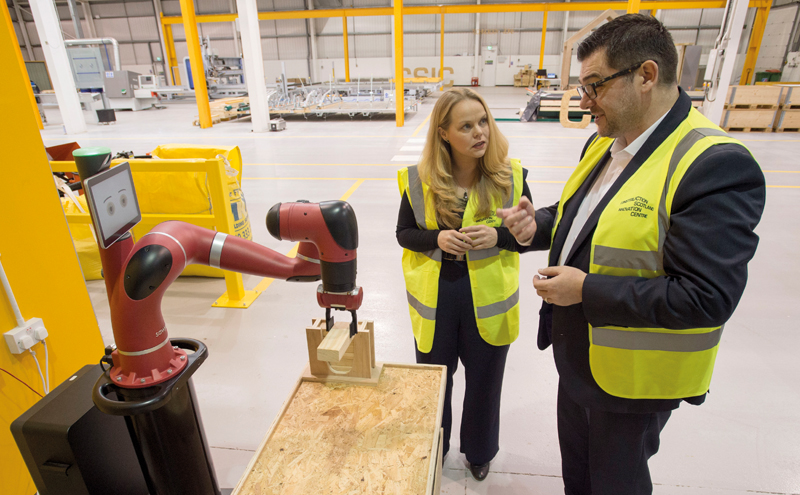 OFFSITE manufacturing was high on the agenda at an 'Innovation in Construction' event held at The Lighthouse in Glasgow recently, where some 40 delegates met to discuss how industry can embrace change.
The event was part of Glasgow Chamber of Commerce's 'Glasgow Talks' series and featured presentations from Stephen Good, chief executive of the Construction Scotland Innovation Centre and Steve Petrie, head of business improvement at Balfour Beatty.
Representatives from the likes of Sir Robert McAlpine, Balmore Group, City Building (Glasgow), Brodies, Harper MacLeod and Glasgow Caledonian University were in attendance.
In his presentation, Stephen Good noted that the industry is facing "disruptive change" and it was the CSIC's role to help it prepare and take advantage of that change. He called on the sector to reach out to other industries that have weathered similar storms.
Stephen said, "It's often hidden, the innovation that goes on in the industry, but you just have to look around you in Glasgow today at all the amazing infrastructure, architecture and design solutions that are coming out of the construction industry.
"How they are delivered and how they are conceived is world class. Our job is to make sure that's obvious and shared much more widely across the industry and externally, and to connect Scotland's construction industry partly with itself… but also to help industry work outwith its own industry. Construction won't fix construction's problems by only talking to construction."
Speaking at the event, Stephen told Project Scotland that offsite manufacturing needs support from clients. He said, "It's an industry, remember, that runs on very lean profit margins, so its not an industry that has inherently deep pockets to invest in technology and skills and innovation…so how we buy things from that industry has to change if we want that industry to change for the better."
Steve Petrie of Balfour Beatty spoke on the contractor's '25% by 2025' strategy, which aims to reduce activity on site.
He explained that the strategy targeted reducing time spent on site as, in doing so, cost would also be reduced and productivity would increase.
He said, "What we need to do is align our people to think differently. All the technology exists; all the processes exist. It's getting our people, as an industry, to think differently and act differently."
Steve explained that Balfour Beatty's strategy would be achieved through 70% day-to-day incremental improvement, 20% adjacent change, and 10% transformative change.