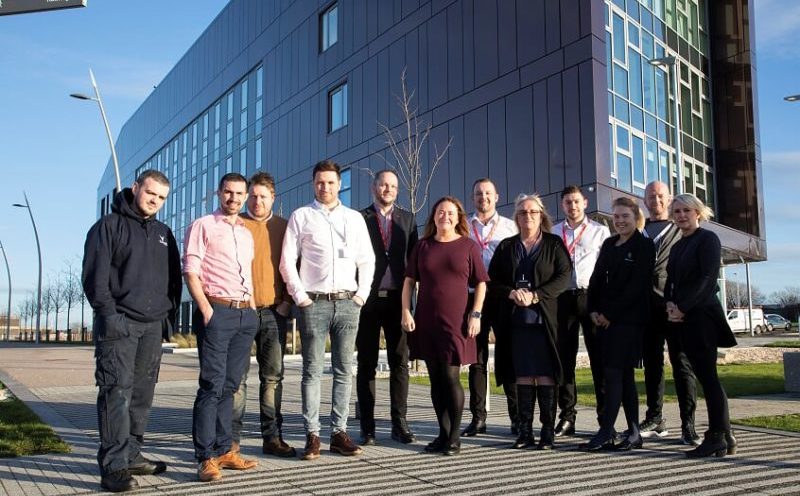 CLYDE Gateway has welcomed ten new SME firms to the newly-opened Grade A Red Tree Magenta office building.
The £9 million building has been delivered at Magenta, a 27-acre urban business park next to the River Clyde and M74 motorway network. It has been designed to recognise demand for "flexible and collaborative" workplaces and "enhanced" specification and services.
Red Tree Magenta – the third Red Tree building that Clyde Gateway has delivered – is now 82% let, less than a month after opening its doors.
The ten new companies will bring 38 jobs to the area and join the building's two larger tenants, property management company Speirs Gumley and BRE Scotland.
Many of the new occupants are in the property industry, including fit-out contractors Calma Group, commercial interiors IDAco, construction site monitoring company I-Watchers, cavity wall insulation specialists Beinn Group, and a local architectural practice.
They are joined by Inspire Scotland, who specialise in residential care for children, lighting e-commerce business Spotlight Direct, events monitoring digital technology business Raven Controls, HR and recruitment firm Best Consultancy and accountantsEvolve Accountancy.
Ian Manson, chief executive at Clyde Gateway said, "Our Red Tree business suites model has already proved itself extremely popular at Red Tree Rutherglen and Bridgeton, and the fact that Red Tree Magenta is heading rapidly towards full occupation just a few short weeks after opening is testament to the outstanding accommodation, facilities, business support and transport links on offer here. I'd like to extend a very warm welcome to all our new tenant companies, who are joining the growing number of dynamic and entrepreneurial organisations here at Red Tree Magenta and within Clyde Gateway as a whole."
Clyde Gateway Developments is working with Highbridge Properties to develop the remainder of the Magenta business park, which it estimates will eventually bring around 12,000 full-time jobs to the area.
Guy Marsden, director at Highbridge Properties said, "Across all sizes of business, there's a growing focus on improving employee wellbeing – while some workers are happiest in bustling open-plan spaces, others need smaller, quieter places to focus. For start-ups and SMEs, this search for more flexible, adaptable spaces often leads them to facilities like Red Tree Magenta, which works particularly well because it can accommodate the solo entrepreneur at a rental desk for a month, but also a larger team across a whole floor for the long haul."