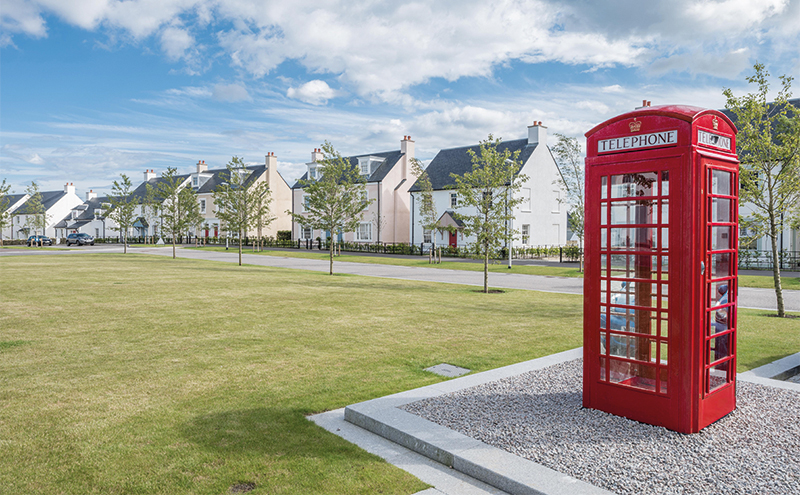 THREE housebuilders have installed Cupa Pizarras' Heavy 3 slate on roofs at the new £1 billion town of Chapelton, which is being built near Aberdeen.
The town, which is being built from scratch, will eventually comprise some 8,000 homes as well as schools, shops, offices and parks.
With Phase 1 now complete, and Phase 2 underway, over 290,000 Heavy 3 slates have been used across 126 units built to date.
The development is a mix of two, three, four and five-bedroom houses as well as two-bedroom flats designed in a Georgian architectural style.
The homes are built with timber kit and blockwork construction.
Colin Anthony, commercial manager at property development company ZeroC said, "The project is being led by landowner Elsick Development Company (EDC) who, in conjunction with leading urban planners, architects and engineers, developed a stringent design code for the site. This stipulated the use of suitable Scottish-style slate and Heavy 3 fits the bill perfectly as it ensures a high quality specification and offers longevity – we use it a lot as it's such a reliable product."
Installer on the Chapelton site for all three developers – ZeroC, sister company Brio Retirement Living and A & J Stephen (Builders) Ltd – Steve Scott, MD at Forster Roofing said, "We are long time advocates of Heavy 3. For this project, it was selected for its heavier weight. Each roof sub structure is timber sarked with a felt layer and the Heavy 3 slate double nailed and finished with zinc ridging and flashing."