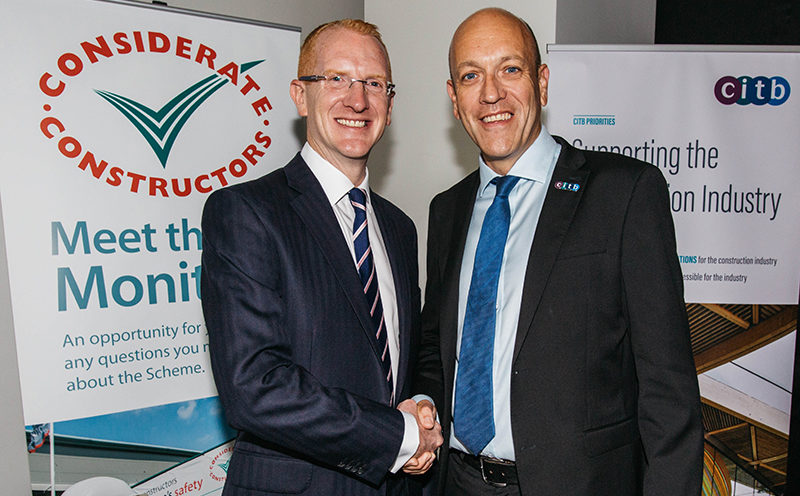 THE Construction Industry Training Board has teamed up with the Considerate Constructors Scheme (CCS) in a bid to improve the sector's image.
The "landmark" partnership agreement creates a shared action plan to work with construction businesses across Scotland, England and Wales with the aim of helping industry attract, develop and maintain the skilled workforce it needs.
The plan includes support for potential entrants into the industry as well as construction employers. One of the first activities will be CITB sharing its Go Construct resources with over 9,000 registered CCS projects across the UK, with the goal of enabling sites to actively promote their career opportunities to a broader range of candidates.
The partnership is also looking to challenge industry stereotypes and recruit the next generation of talent by collaborating on new research to understand perceptions of the sector and recruitment needs for different entrant groups; creating joint networks of construction businesses to showcase the range of career opportunities for all; and reaching out directly to potential new entrants to raise the profile of construction and what it can offer.
Sarah Fenton, strategic partnership manager for the Midlands and the North at CITB said, "This is a landmark agreement and one that is critical to help us overcome out-dated perceptions of construction and promote the wide range of opportunities it can offer.
"We want young people to see that you can have a great career working in construction. Together with the Considerate Constructors Scheme, we will support industry to attract, train and maintain the new wave of highly-skilled talent this sector needs."
Edward Hardy, chief executive of the Considerate Constructors Scheme added, "This partnership signifies how two organisations which have the reach and influence across our industry can work together to help promote construction as an exciting, interesting and rewarding place to work.
"Our partnership complements the Scheme's work it is already doing to encourage construction to promote itself through its Promoting Constructing #loveconstruction campaign. We look forward to working more closely with CITB to really help the industry to 'sell itself' effectively to attract and retain our future workforce."