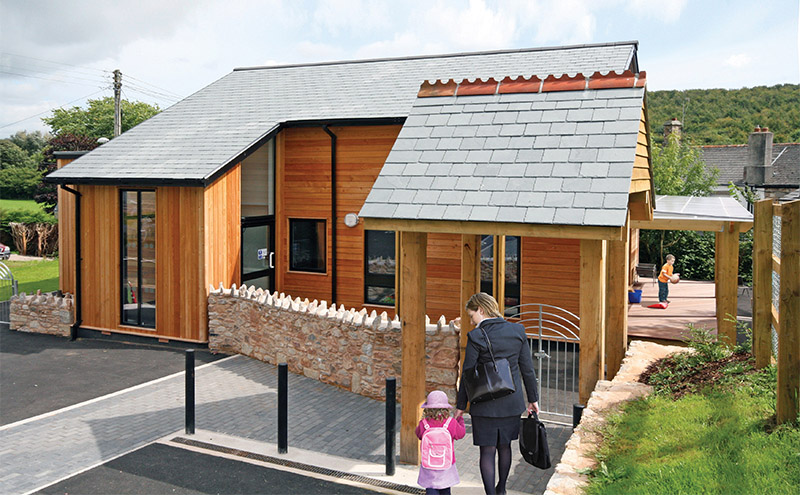 MODULAR construction is playing an increasingly important role in Scotland's education sector.
One company that specialises in modular manufacturing is Wernick Buildings. The firm has been involved in around 20 education projects north of the border this year and trebled its Scottish turnover.
Despite "preconceptions" still existing around the limitations of factory-built structures, Chris Hart, Wernick's divisional manager for Scotland, says the feedback on the group's projects has been overwhelmingly positive, with modern modular buildings providing a "considerable improvement" on the sort of accommodation teachers were previously operating in.
"Using factory construction, we can build faster, to higher standards, and at any time of the year," Chris told Project Scotland. "There's also environmental benefits with reduced waste and less emissions. In modular construction we can really meet a lot of the requirements in the education sector – that's why I think it's a perfect match."
From a health and safety perspective, one advantage of modular builds is that a lot of work can be carried out away from 'live' school sites. Chris said Wernick's site programmes are often half that of traditional methods, while the craning in of the modular base can frequently be carried out at weekends or during school holidays.
"Scotland has had a massive amount of public investment, particularly in the education side of things," Chris added. "Education is by far our biggest marketplace. We've had at least 20 sites in progress this year, spread right across Scotland. The most memorable job for me was a small school project we did in Bettyhill on the north coast of Scotland. We did this for The Highland Council in partnership with Morgan Sindall. This would have been very challenging to build traditionally because of the large number of operatives that would need to make such a long journey, but we achieved it using probably less than ten people on site."
Chris said the stereotypical view of modular buildings being steel boxes with poor insulation levels and unable to incorporate architectural features, is outdated.
"When we go to work in a school, often the first thing we find when we arrive initially is that there's an argument among staff over who's NOT going to go into the modular building. When we hand over a building, nine out of ten times the argument is over who IS going to be in the modular building, because it's a much nicer environment. They're warmer, cleaner, bright and airy. From a teaching perspective, it's a considerable improvement on a lot of the accommodation the teachers are currently working in.
"The preconceptions are there but the reality is that when people walk into a modern modular building that Wernick has made, they realise this is a big step up from what they're used to."
Chris explained that modular construction has improved so much that the business has evolved from merely competing against other modular contractors to win tenders to directly competing with other forms of construction.
He told the story of a recent conversation he'd had with an architect, who said you wouldn't expect Ford to come and build a car from components in your driveway, so why would we expect to deliver buildings any differently?
Looking to the future, Wernick hopes to be heavily involved in the Scottish nursery build sector, which is set to benefit from huge investment. Chris said modular construction is "perfect" for nurseries, claiming Wernick can construct nurseries in line with the Scottish Government's Space to Grow guidance document for up to 30% less than traditional forms of construction, without changing the architectural finish.
With skills shortages becoming more of an issue, Chris said it has become noticeable how many large contractors have been speaking to Wernick to see how the firm can work with them to deliver projects – especially around the effort required to deliver a raft of nurseries over the next 18 months.
"The sector is really under no illusion that this is not going to be achievable without thinking of new methods and strategies. Being a factory-based manufacturer allows us to use a consistent, well-skilled workforce all year round. We're not reliant on weather conditions. We're not reliant on ebbing and flow of workforce being available."