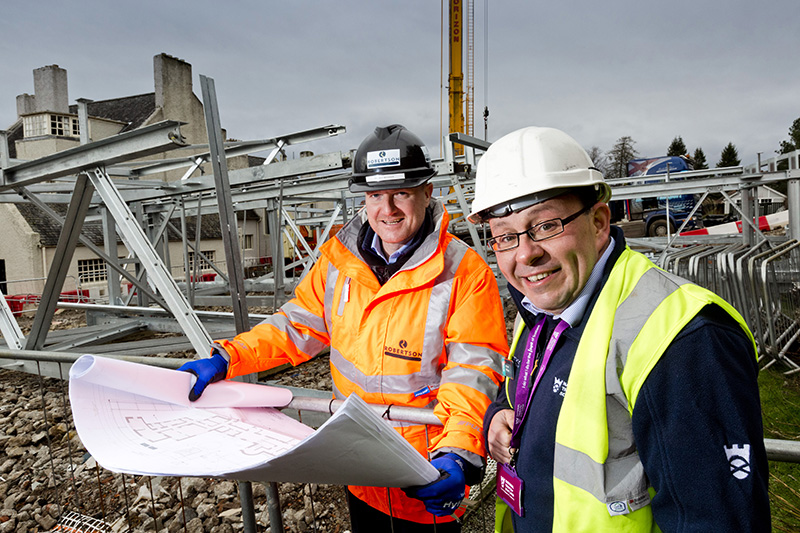 THE first major milestone has been reached in a project to safeguard one of Charles Rennie Mackintosh's most revered works – The Hill House in Helensburgh.
The project, spearheaded by the National Trust for Scotland, involves contractor Robertson constructing a mesh 'box' around the building in a bid to protect it from the elements ahead of extensive refurbishment.
The first of the steel mesh frame has now been erected around the building, with a 100-tonne crane recently arriving on site to carry out the heavy lifting.
Ed Parry, managing director of Robertson Central West said, "Since starting on site in November last year we have been laying the groundwork for this important milestone. It was an exciting moment for everyone involved in the project to see the crane arrive and for the first part of the steel structure to be put in place.
"This is a hugely important project and one that is genuinely unique – we look forward to keeping the public up to date with continued progress and to delivering on the National Trust for Scotland's vision for The Hill House."
The National Trust launched the 'Box the Hill House' campaign in February 2018 with the aim of raising £1.5 million towards the total cost of the box. To date, more than £1.2 million has been raised, with fundraising to continue.
Richard Williams, general manager for Glasgow and West at the National Trust for Scotland commented, "Seeing the box take shape is an extraordinary feeling and a significant milestone in our charity's rescue effort to save The Hill House.
"After years of planning we can really start to see the scale of what we're doing here, for the love of the building and where it stands in the history of Scottish architecture."
The Hill House project, being delivered by Robertson, was procured through collaborative procurement consultancy and construction route, Scape Venture.
Mark Robinson, Scape Group chief executive added, "Scape Venture is specifically designed to promote efficient outcomes for charities, and by using our framework the National Trust Scotland is ensuring it receives the best value for money.
"Our collaborative and transparent approach facilitates success for every project, and is supported by an extensive local supply chain which will support the local economic development agenda beyond the build process."