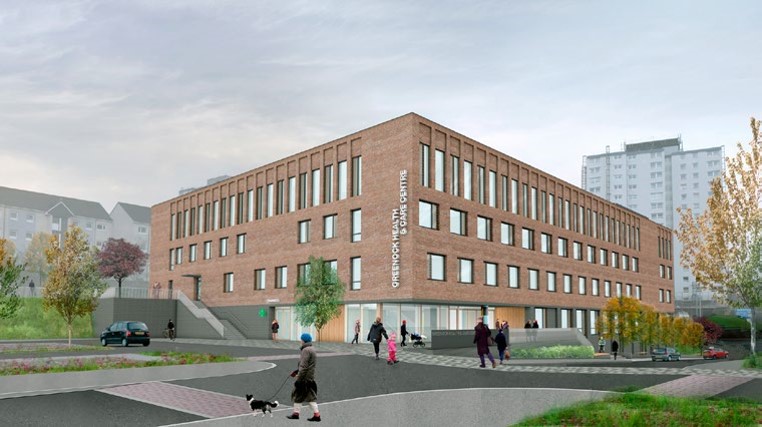 BAM Construction has announced Financial Close has been achieved on two healthcare projects which are being delivered for NHS Greater Glasgow and Clyde by hub West Scotland.
One of these is the £19 million Greenock Health Centre, a primary care centre to be built on the former site of Wellington Academy. The three-storey building, designed by Hoskins, will bring together four existing GP practices, district nurses, health visitors, dental and podiatry departments and a number of out-patient clinics. The design includes a community café. Work will start later this month and is due for completion in August 2020.
The second project, by Keppie Design, forms part of Stobhill's Mental Health Campus on Balornock Road in Glasgow. BAM will create an £8.5 million single-storey building to provide residential care for acute admissions and complex clinical care patients. The contractor said work on this will run in parallel with the Greenock project.
Bruce Dickson, regional director for BAM Construction said, "These are complex buildings and it's taken us several years of working with our consultants, hub West and the NHS to make sure that the design of these projects achieves all of the NHS's objectives for 21st Century healthcare provision. Our team is now really looking forward to getting construction started. We have a very good track record of delivering projects for NHS Greater Glasgow and Clyde so these are important projects for us to grow that legacy."
Iain Marley, chief executive at hub West Scotland added, "We are thrilled to have reached this important milestone and are grateful for the outstanding work done by the client, BAM Construction, and other hub West partnership team members that made it possible.
"We know from our experience of successful similar developments that the new facilities will have a hugely positive and transformational impact on local communities and we are proud to play a role in the planning, delivery and maintenance of high quality facilities that will enhance the quality of health and social care services in the Glasgow and Inverclyde."