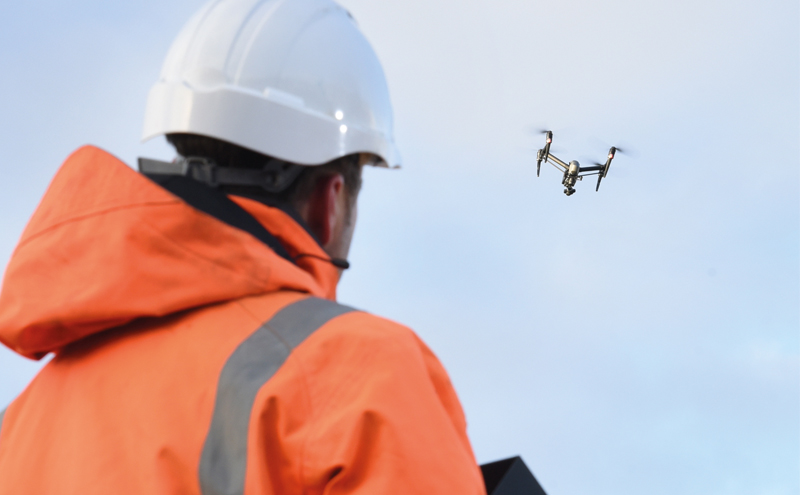 THE use of drones on construction sites is undoubtedly becoming more prominent due to their ability to perform a range of tasks including providing information about difficult-to-access areas of buildings, and safely and quickly producing accurate images and video footage of projects.
West Calder-based groundworks specialist Mulholland Contracts recently invested in a new GPS-enabled drone along with drone pilot certification from the Civil Aviation Authority (CAA), which allows the firm to carry out unmanned aerial surveys on their sites.
The drone is being used to capture data and help with tasks such as monitoring earthworks on the firm's predominantly housebuilding schemes.
Paul Gaughan, from Mulholland's estimating department, explained, "The ever-demanding workload of the site engineer was starting to put pressure on time spent capturing survey data that allows us to maintain a record of how our earthworks are progressing on site. We were looking to take on a dedicated land surveyor to carry out these surveys, but at the same time we were looking at ways in which we could capture the survey data more efficiently.
"With my background in land surveying, I had previously been involved in mass data capture projects through already long-established techniques of laser scanning and photogrammetry. I knew the benefits having such detailed site information would bring to the company. Drone technology now allows us to do this."
Paul said the benefits include a reduction in the time spent on site navigating potential hazards, the ability to free up site engineers to carry out other tasks and, due to the large volume of data captured, the option to visualise sites in more detail than ever before.
"It prevents revisits to site to capture missing data at a later date, and imagery can be reviewed to help with information that may not have been the focus of the initial survey," Paul added. "And being able to carry out these surveys so quickly means that we have a great record of how our clients' sites are progressing, enabling us to manage the earthworks better."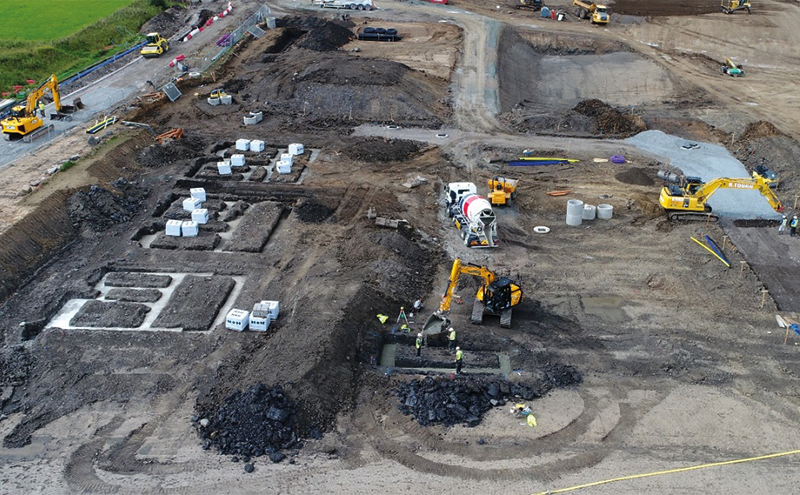 Michael Mowbray is the drone pilot. In order to obtain a commercial licence, he had to undertake formal ground school and practical flight training prior to submitting an application for PfCO (Permission for Commercial Operations). Among many other things, the training teaches drone pilots how to conduct in-flight emergency manoeuvres. A theory exam and practical flight test form part of the course. The PfCO must be renewed annually and drone pilots are required to conduct pre-site survey assessments and check weather reports and airspace classification before a survey can commence.
Michael said, "The introduction of the drone into our surveying methodology has created the opportunity to learn new survey software and surveying techniques. The site which we will be flying over has aerial ground control points installed prior to us visiting the site.
"(These) points are either surveyed using Total Station methods or by static occupation over the control point by RTK GNSS. Applying good surveying principles at this stage creates a good framework of ground control, which contributes to producing an accurate aerial survey. In addition, when we have captured the data with the drone, we then have to process the survey data in our photogrammetry software, which then allows us to export point cloud data into our survey software where we can carry out further volumetric analysis."
Mulholland finance director Kevin Breen stressed that with technology and methods of working constantly changing, the company always needs to be on the lookout for the latest technologies that will bring advantages. As an example, he explained that the firm is now looking at the GPS positioning and guidance systems in its 50 JCB excavators.
Kevin said, "The biggest driving force for innovation in construction has always been safety and I think that construction has always been looking at ways to reduce risk to workers.
"Innovation and technology helps. Using drones is no different; as soon as the cost benefits associated with new technology are realised, the mass adoption of these technologies becomes unavoidable."