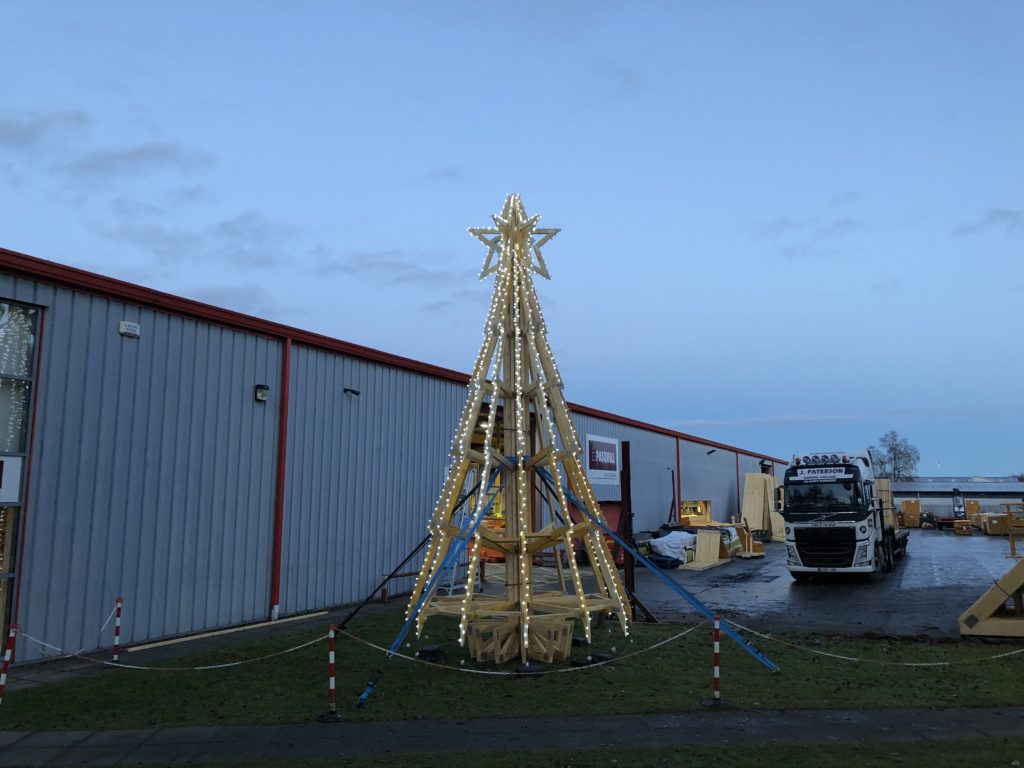 AN Inverness roof truss supplier is getting into the spirit of the season with the unveiling of a supersized 'Trussmas' tree at its yard.
The 23 ft. tree is the result of a Christmassy collaboration between supplier Pasquill's design and production teams, following the positive reaction to a smaller in-office tree last year.
The 7-metre-high structure comprises eleven different segments, created using individual roof trusses, which were all cut, pressed and plated at Pasquill's on-site manufacturing facility.
Donald Matheson, senior designer explained, "we made a small tree for the office, which customers really liked. It seemed to make a big impression so we thought we would try to make a bigger one for the outside this year.
"Between us all, we worked on the design to come up with the final design. We did a few different ones before we decided on the one we picked, so we designed it in our truss software and then made it in our factory and erected it outside."
3D modelling and augmented reality were utilised in the tree's construction, which Donald said proved to be of great benefit to the final product, allowing the team to "get an understanding of the whole scale" of the tree prior to manufacturing it.
"To get the actual scale of it against a person we were able to use 3D modelling and also augmented reality to actually get it to sit on the piece of land it's actually stood on now," Donald said.
The biggest challenge, Donald continued, was erecting the tree due to its impressive height. "We put ground anchors in to keep the tree in place and strap it down. That was our main concern, given the height of the tree, so a lot of time was taken in making sure we had got the right anchorage to keep it in place."
He added, "The reaction has been great; it's only been up since Tuesday but customers come in to take photos of it and you can see people as they pass the site, they're stopping to have a look at it."