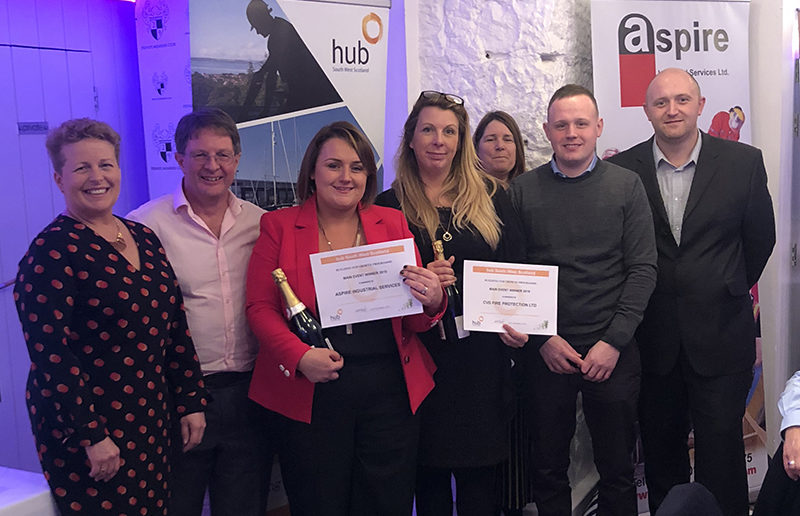 CLAIRE Donnelly and Caroline Barrett have been named joint winners at the latest hub South West Building for Growth Programme awards event.
Claire is managing director of Hillington-based Aspire Industrial Services, while Caroline is MD of CVD Fire Protection in Carluke.
Aspire was founded last year as a one-stop shop for the supply, hire, testing and servicing for asbestos, construction and demolition activities, with an open trade counter where customers can buy PPE, Respiratory Protective Equipment (RPE), and branded work and corporate wear.
Claire said, "We are a young business, but we have already been fortunate enough to win a number of major contracts on construction sites throughout the UK by introducing innovative products which seek to make construction sites safer. The Building for Growth programme has been a brilliant opportunity to consider carefully how we can make our business bigger and better and capable of regularly winning work from Tier One construction sector contractors."
CVD Fire Protection, which was established in 1997, has 50 employees and boasts a turnover of £3 million. The company provides fire protection, diamond concrete drilling and cutting services to the construction industry.
Caroline said, "I really enjoyed the hub's Building for Growth programme. It was full of ideas on how to make your business better and focused our brains to think about "working on" our businesses rather than simply "working in" them. Above all, I think, it has taught me the importance of having a strategic approach, and I am delighted to have won this award."
The Building for Growth programme targets local SMEs. Workshops focus on topics such as smart tendering, team building, strategic growth and exit options, marketing planning, supplier development programmes, corporate social responsibility and pitching for business.
Gordon Hunter, supply chain development manager at hub South West added, "Our Building for Growth programme has already delivered success to the leaders of its participating companies by both broadening and deepening their grasp of the factors needed to win more new, bigger contracts from the Tier One contractors.
"We hope and trust that Claire and Caroline and the other participants in our ninth Building for Growth programme will follow in their footsteps."