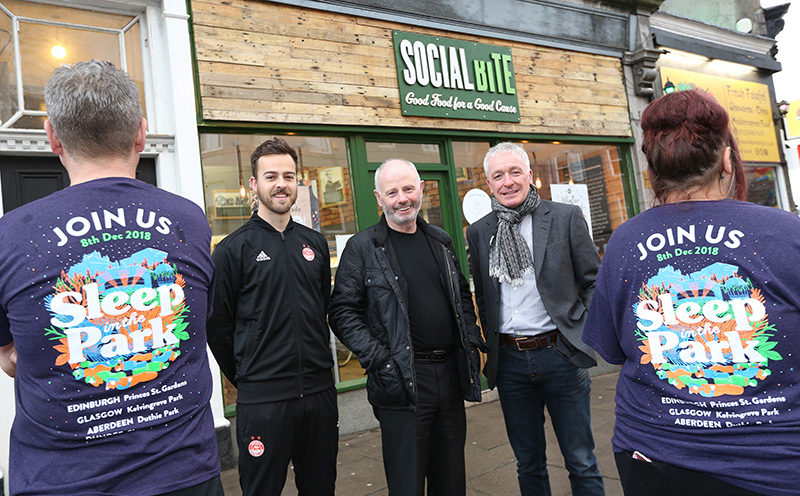 BUSINESSMAN Stewart Milne, along with colleagues from Stewart Milne Group and Aberdeen Football Club, is to take part in the world's largest sleep out for charity.
The Aberdeen FC chairman will be braving the harsh sub-zero temperatures of winter along with colleagues and thousands of others in support of Social Bite's effort to end homelessness in Scotland.
The Sleep in the Park event will take place on Saturday 8 December across Aberdeen, Dundee, Edinburgh and Glasgow. Volunteers will be sleeping out overnight with no heaters, tents or home comforts.
In a bid to raise even greater awareness of the event and to encourage people to take part, artists including KT Tunstall and Amy Macdonald will be performing live at each location on the same night.
There will also be a 'bedtime story' reading in each city, with Aberdeen manager Derek McInnes reading in Aberdeen and author Irvine Welsh's story being broadcast to all four sleep outs.
Stewart Milne commented, "I've looked out my sleeping bag and will be wearing as many warm clothes as possible. It will be a challenge, but a worthwhile one. We're doing this for one evening, amongst colleagues, friends and family, whereas thousands of people do this every night alone."
This year's event aims to involve over 10,000 people, with organisers hoping to beat last year's fund total of £4 million.
Josh Littlejohn MBE, co-founder of social enterprise Social Bite said, "People from all walks of life are getting behind Sleep in the Park, and it's great to have a household name like Stewart Milne willing to join them in giving up his bed this Saturday night to show support for Scotland's homeless.
"The money raised by Stewart and his team will go directly to getting people out of shelters, away from rough sleeping or cadging places to sleep and in the long-term, supported accommodation across Scotland. They're part of a movement to actually do something about the issue."
Stewart Milne added, "Every day, Stewart Milne Group is providing people with new homes, and this Social Bite event is an opportunity to raise awareness of the plight of those less fortunate and help to ensure that everyone in Scotland has a place to call home. This is a prime opportunity for our staff to get involved and help this charity to move closer to that end goal."
To date, the firm has raised almost £10,000 collectively, with more fundraising planned ahead of the weekend.