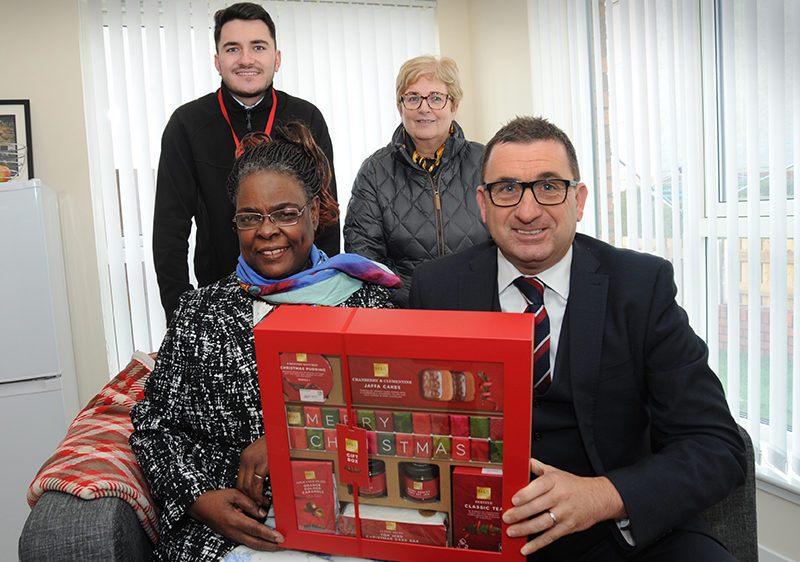 REGENERATION specialist ENGIE has announced the handover of new homes and festive hampers for Glasgow Housing Association (GHA) tenants in Cathay Street, Milton.
ENGIE landed a £6.1 million contract to build 54 terraced houses and cottage flats on the former brownfield site on behalf of GHA, which is part of Wheatley Group.
The company has handed over the first properties in time for Christmas. The new homes are built to the latest Scottish Building Regulations Silver Standard and ENGIE said they will provide "high quality and energy-efficient" homes for social rent.
Brian Pettigrew, regional MD for ENGIE's places & communities division said, "This project is an exemplar of how partnership working can enhance lives and put back into local communities. GHA has reclaimed a derelict brownfield site and invested considerably to bring much-needed affordable homes to the north of Glasgow while regenerating the area. As part of ENGIE's commitment to social value, we have in turn offered access to apprenticeships, employability initiatives and funding support for social enterprises, third sector organisations, community groups and charities.
"We are delighted to be in a position of offering the new homes to these customers before Christmas and look forward to welcoming more residents early in the new year."
David Fletcher, Wheatley Group's director of development added, "Our new homes help transform people's lives as well as transforming communities. Delivering these hampers to our new tenants is a lovely way of welcoming them into their new homes." 
GHA tenant Rona Sibanda (62) commented, "I am delighted with my new house. I've waited a long time to find this happiness. I'm very grateful for the hamper and looking forward to a happy Christmas."