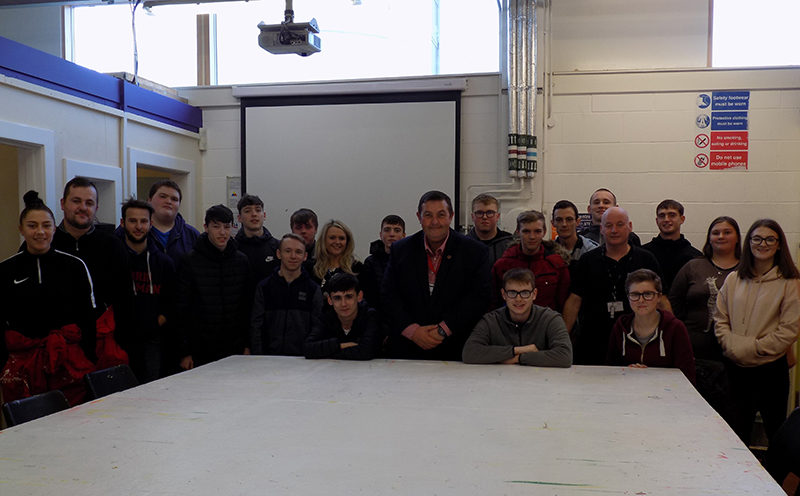 PRE-APPRENTICES from New College Lanarkshire have received a glimpse into future career opportunities in the Scottish construction industry during a visit from Morrison Construction.
Economic performance manager Jim Johnstone and assistant community skills manager Caitlin Quinn visited the Motherwell Campus to give a talk to students. For the last three years, the college and Morrison have worked together on a 'contractor partnership' to allow pre-apprentices to undertake six-week-long work placements on the company's projects. Many of those students have been offered Modern Apprenticeships in the sector.
Jim Johnstone discussed major including the Queensferry Crossing. He said, "Morrison Construction has a progressive community benefits programme – and the contractor partnership with New College Lanarkshire is just one of our many local initiatives. For three years, this partnership has enabled us to assist in the shaping and preparing of young people with aspirations for a career in the construction industry as they learn skills, earn qualifications and build relationships essential for joining the workforce."
The full-time Construction Pre-Apprentice programme, which lasts for one academic year, is designed to provide students with the skills, qualifications and certificates that will help them secure employment or progress on to further study.
Lecturer John Quinn said, "We try to get students work-ready and companies like Morrison Construction are seeing that sense of discipline that students are learning with us transfer into the workplace. So far we've had a very successful partnership and found positive destinations for many of the students who have gone on placement. I hope that this presentation from Morrison Construction gives our students aspirations to be the best they can be and realise the wide-ranging career paths that are available to them."