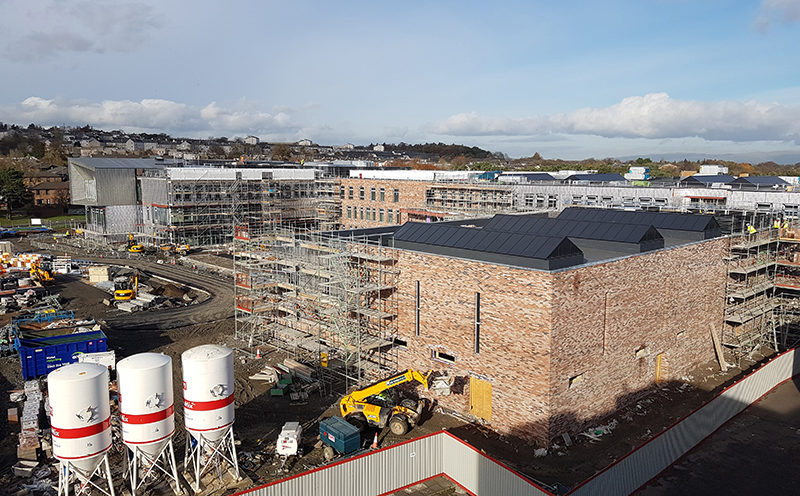 MORRISON Construction has reached a "major milestone" for its Cumbernauld Academy and Cumbernauld Theatre project.
The £37 million project, which is being undertaken with development partner hub South West and North Lanarkshire Council, has progressed to the weathertight stage.
The build's external features including brickwork and zinc cladding have been completed. The internal works will continue in the coming weeks, which are set to shape the characteristics of the facility through partitioning, decorating and services installation of the building and energy centre.
The new campus, which is being built next to the current Cumbernauld Academy, will have capacity for 1,250 secondary pupils and a 300-seat replacement venue for the current Cumbernauld Theatre.
Once construction work on the new development is complete, the current school buildings will be demolished to make way for external sports facilities.
Mark Stirling, project manager, Morrison Construction commented, "It is exciting to see the project at this stage. It continues to be very busy on site as significant progress continues and we look forward to delivering this project for the community.
"We have an excellent relationship with the school, sponsoring the Cumbernauld Academy Christmas Market for a second year.
"Site visits from employment groups continue and it is wonderful to have seen work experience placements with our supply chain develop into full-time job opportunities.''
Michael McBrearty, chief executive, hub South West Scotland added, "It's fantastic to see this innovative and important development taking shape, and to see the interest and engagement the current Academy is experiencing throughout this construction process.
"The new Cumbernauld Academy and Community Theatre Campus will become a much-valued asset for the local area and provide young people with the best possible start with the provision of excellent facilities that can also be used by the wider community when doors open next summer."