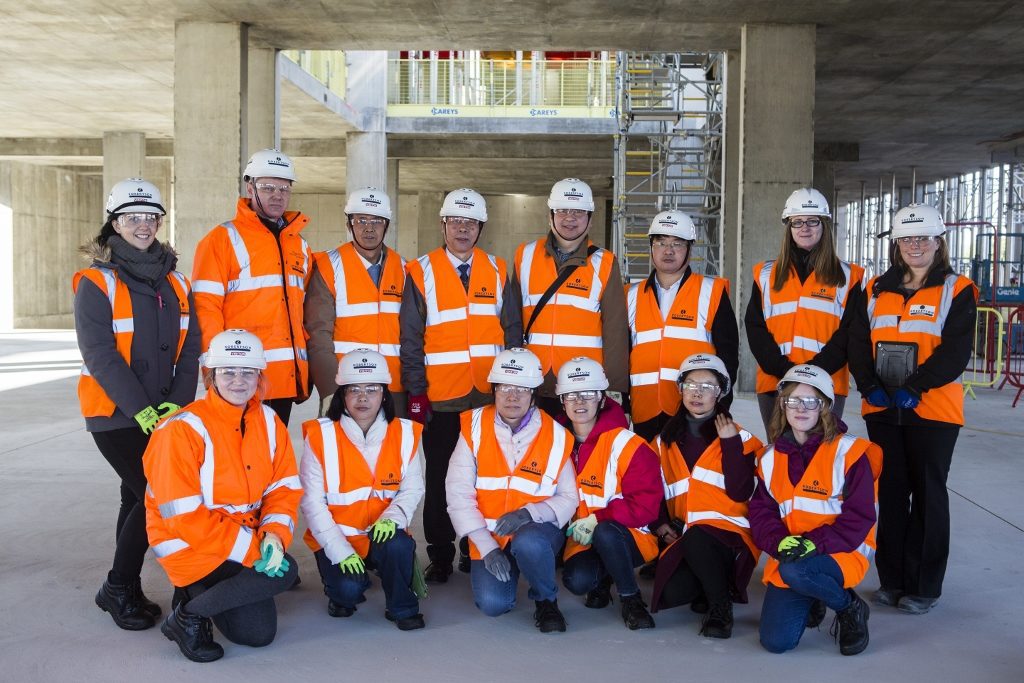 A group of Chinese university delegates visited a landmark construction project in the Highlands as part of a knowledge sharing programme recently.
Eight visitors from Henan University of Urban Construction (HUUC) were welcomed to Inverness Justice Centre by contractor Robertson to learn about the construction process, including some of the logistical challenges faced by the team over the course of the build.
The guided tour was part of a collaboration between HUUC and the University of Highlands and Islands.
The Inverness Justice Centre is the first of its kind in Scotland, and will provide integrated facilities for justice organisations, victims, witnesses, litigants and other users. In addition to visiting the centre, the delegates were given a series of seminars, lectures and visits to businesses around the Highlands.
The Inverness Justice Centre project is being delivered by Robertson in partnership with Wilmott Dixon, and was procured through Scape's National Major Works framework, since superseded by Major Works Scotland – part of Scape's National Construction framework.
Frank Reid, managing director, Robertson Northern commented, "Hosting the delegates from Henan University of Urban Construction gave us a chance to showcase the incredible work we are doing at Inverness Justice Centre, as well as learning from the group about emerging technologies, systems and work practices that they are developing in Asia."
Jenni Loades, international development executive, University of Highlands and Islands added, "We hosted a delegation from HUUC last year on a similar programme, and we're delighted to have representatives visiting us again.
"These programmes give us the opportunity to really understand the similarities and opportunities between our institutions, and we look forward to strengthening our relationship and partnership in these areas of student and staff mobility and research moving forward."