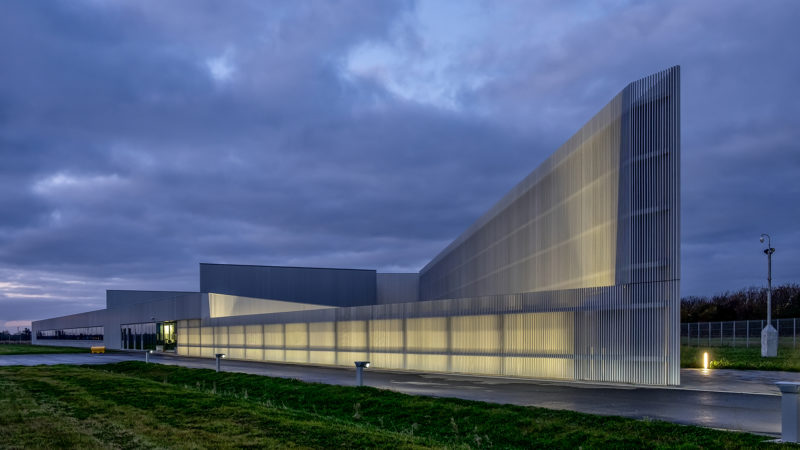 NUCLEUS, the Caithness-based national archive facility for the civil nuclear industry, has been crowned the winner of the 2018 RIAS Andrew Doolan Best Building in Scotland Award.
Designed by Reiach & Hall Architects, Nucleus, The Nuclear Decommissioning Authority and Caithness Archive, was selected from a shortlist of twelve projects from across Scotland, to claim the 'UK's richest architecture prize'.
The winner receives a gold medal cast by Scottish goldsmith, James Brent Ward and a cheque for £25,000.
The award was presented at a ceremony at the V&A Dundee by Fiona Hyslop, the Scottish Government's Cabinet Secretary for Culture, Tourism and External Affairs, alongside Margaret Doolan Hon FRIAS.
Ms Hyslop said, "Good design in our built environment is a key mechanism for supporting our economic success, taking forward our environmental objectives, contributing to our cultural continuity and promoting healthy lifestyles.
"Each year, the RIAS Andrew Doolan Award shortlist highlights our architects' best new work. The Award helps to raise our aspirations at home and boost our reputation for design quality around the world. This year's winning project, Nucleus, shows great inventiveness in enhancing its local area, and is another terrific example of the standard of architectural creativity here in Scotland."
The judges were RIAS Past President Professor Gordon Murray, this year's Stephen Lawrence Prize winner Anna Liu and, past Stephen Lawrence Prize winner, Murray Kerr.
The judges commented: "The Caithness area has perhaps endured the greatest diaspora of any area of Scotland since the clearances, and the heritage aspect of Nucleus and its potential to assist in both a cultural and economic regeneration of the region cannot be overlooked.  As well as a national archive of the UK's nuclear power industry, it is also the repository of the social history of Caithness. This building has many stories to tell.
"In an effort to give some depth of context to the rather anonymous site for the building on the edge of an industrial estate, the architects have drawn an allegorical tale on the landscape and big skies of the floe country and the magnificent horizontal light on which is founded the disposition of elements of the building- the pools of water and the triangular forms. However, for this jury, the rootedness of such a building firmly in the social and cultural history was a much more significant allegory.  The building is a physical manifestation of the metaphysical, capturing both the identity and the nature of the space of its location.
"At a basic level the building is a sophisticated storage facility ordered along a logical system of servant and served spaces- the archive bunkers. However, it is with the addition of the support facilities and public archive in the triangulated forms, the planes of which shift in the vertical and the horizontal, and in the 'lochans' – the pools which signify each progressive level of security in the building, that the building comes alive.  The long, triangulated prow creates a unique public space with a grand sense of arrival – this is indeed a public building.  The immediate enclosure gives a sense of place where there was no context before."