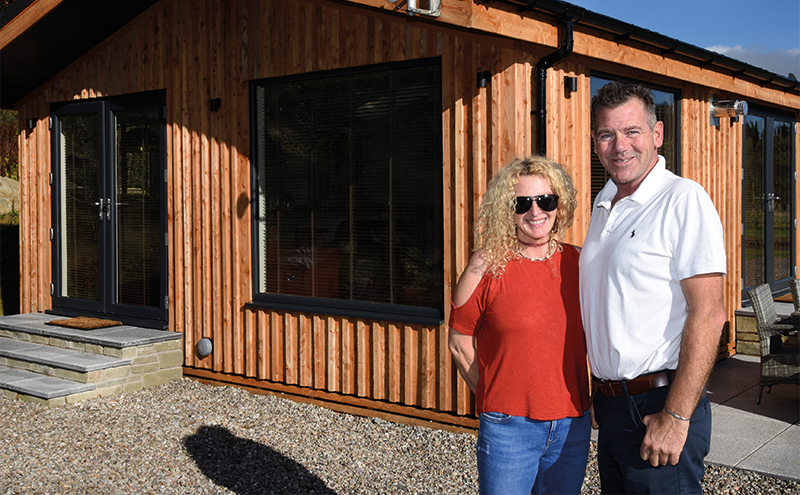 AN innovative construction project in the heart of Perthshire is creating a range of luxury holiday homes as well as eco-friendly permanent accommodation for people looking to enjoy the great outdoors.
Balloch Park is the latest development at the multi award-winning Mains of Taymouth Country Estate in Kenmore.
The estate, based just six miles from Aberfeldy, has been welcoming tourists for several decades, but this is the first time residential homes have been made available.
Estate owner Robin Menzies told Project Scotland he's hoping the two and three-bedroom lodges, which have been built by local firm Blairish Restorations using sustainable timber, will appeal to a range of people including those looking to downsize without sacrificing on quality.
Phase one will feature 16 bespoke lodges, ten of which have already been sold. Once complete, the development, which has Drummond Hill on one side and the banks of the River Tay on the other, will boast 38 properties, priced from £179,000.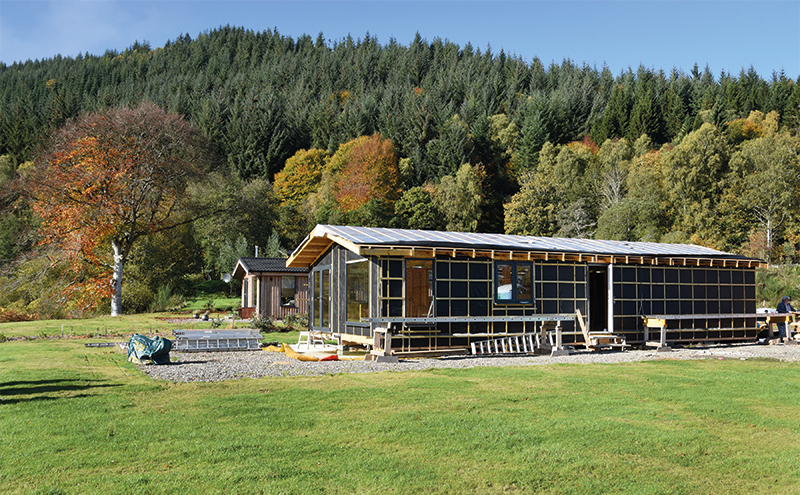 Although there are standard elements to the design, each lodge can be tailored specifically to the buyer's tastes with respect to the internal layout and decoration. The homes can be further personalised with the inclusion of features such as a sauna or office.
"It took us four years to get this development through planning because it's an environmentally sensitive area," Robin said. "This used to be a quarry. We had to monitor it for a year with gas testing.
"The good thing about these buildings is they don't have the standard foundations that you have on normal buildings. We basically bring everything out of the ground: drainage, water, gas, electrics, concrete foundations, ready for the builder to come in and then the joiners get to work and put it together.
"The construction is from the ground up. There's no messing about with foundations. We go straight into the construction so it's quite an instant result. A big advantage is that we don't become restricted with weather. There's always access into the site."
Unsurprisingly given the idyllic nature of the site, sustainability and the environment have been crucial factors in the construction of the lodges.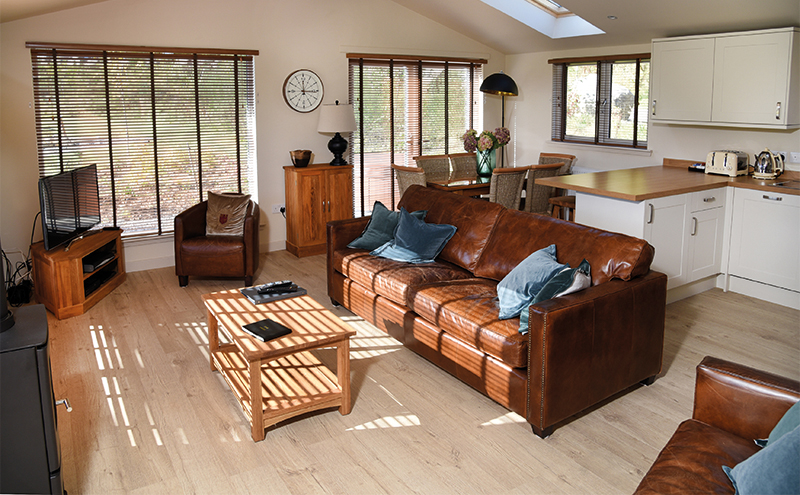 "They all had to be timber clad," Robin explained. "They all have Decra roof tiles. The principle design of the buildings is pretty much the same, although we can extend or shorten them a bit, and change the internal layout and window layout. We use Scottish timber that is fairly sustainable. The materials are mostly Scottish. You've got natural insulation. The roof material will last a long time. They're very heat efficient. Everything is off the ground so you've got that constant circulation of the air.
"Every one is built bespoke. We've got the basic box, if you like. Internally they can be laid out with two or three bedrooms. Generally the kitchens are open plan. It's about having everything where you want it. Little things matter, like having electric sockets exactly where you want them. Then you've got the bed configuration, so it's set out as you want it. The owners get a choice of paint colours, flooring, layout, and kitchen. They're all different in that respect. There's a lot of space around each one; everybody's got their own privacy."
Robin has been hugely encouraged by the popularity of the new lodges so far. Of the ten already sold, eight have been for holiday use while two have been bought as a permanent base for the owners.
"They provide easy living; they're low maintenance and cheap to run," Robin added. "This is a very private place to be. There's no noise. We do definitely attract the more discerning people. We try to keep everything we do five star.
"Branching out into the residential side of things is something quite different for us. Downsizing is quite a buzzword. A few years ago a lot of people were downsizing to things that were not as nice as they were in before. That's definitely a big market. It's a hard sell because people are making a major lifestyle decision. I think (that side) will grow."
Despite the political uncertainty currently engulfing the country, Robin had no hesitation to take on such a major project at this time.
"Gamble is my middle name," he laughed. "We were confident in the location. A lot of what we do is about 'build it and they will come'. Location is number one. We're lucky where we are. We have a quality product that sells itself. We don't advertise a lot; people tend to find us rather than us finding them, so we know we've got the right person.
"This is traditionally quite a holiday area and we were quite keen to develop into something that was more of a permanent holiday. I went to trade exhibitions ten years ago where some of the busiest stands were park home-type developments. It kind of inspired me to do something similar but to a better standard."
Mains of Taymouth was originally a farm before Robin's father Duncan diversified into tourism as far back as the 1950s. In the early days, holidaymakers would stay in canvas tents before gradually the business moved more into the luxury caravan market. They then started developing all year round holiday homes and the former farm buildings were renovated into self-catering accommodation.
The wider estate has a bar and restaurant, riding stables and a golf course, which Robin designed more than 25 years ago.
He remarked, "From the 1950s to present day it's grown from a little caravan park to quite a major holiday destination in Scotland. In the old days, caravans were very seasonal; not a lot went on over the winter. As time has gone on, things have become more permanent. The homes are built far more robustly and can handle the winter, which is great for us as it means we can employ people all year round. We now have 30 full-time employees. We've become quite an important local employer; it's good for the area. We work hard to make sure we keep our quality and standards up. You can build something nice but you've got to keep it nice as well. There's a lot of that in mind when we do the design and the kitting out. My wife Irena does all the interior design, featuring good quality finishings. We need quality kit to reflect on the quality of the rest of it. We want things that last."
Robin has been using Aberfeldy-headquartered Blairish Restorations for over quarter of a century as principal contractor on the construction side of things. He also has a policy of using local firms wherever possible.
"Blairish are excellent builders," Robin said. "They understand the business; they know what we're looking for. I think it's really important to work with local companies wherever you can. We also use local concrete suppliers and building material suppliers."
In terms of the target market for Balloch Park, Robin cited people "looking for a change" and wanting to get away from the city.
"The homes will appeal to outdoor-type people who don't expect to have things laid out for them. It's a diverse market. We made sure we got consent for not only holiday use, but also to allow people to enjoy them on a more permanent basis. As the development has progressed over the last year-and-a-half, we've had quite an equal split of people buying them. I think they feel secure as well because we've got a good reputation. We use a good builder; they can see the quality of what we've done in the past; they're not buying into the unknown although it is quite a new concept.
"As far as the buy to let side goes (on the wider MOT estate), we've got 20 different owners we've dealt with for the last 10-15-years. They're happy owners, so they must be getting a reasonable return on their investment and we're happy. So it's a win-win situation."