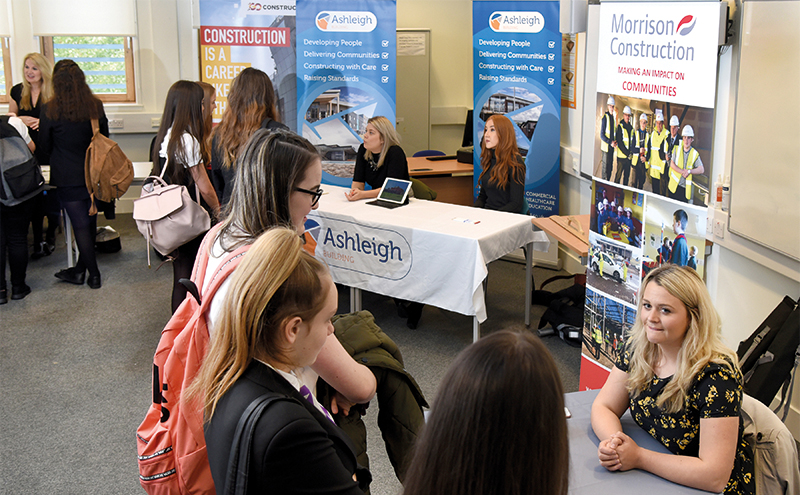 A day of construction workshops designed to promote the industry to girls was recently held in Glasgow, with pupils from five secondary schools from across the city taking part.
The 'Go Girls Construct' event was delivered by Glasgow Clyde College in partnership with Developing the Young Workforce (DYW) at its Cardonald campus.
S3 and S4 pupils from St Thomas Aquinas, Lourdes, St Margaret Mary's, All Saints and St Roch's secondary schools attended the event, which comprised four workshops and an 'information station' with female staff from Ashleigh, Morrison Construction and the the Construction Industry Training Board (CITB).
The four workshops were designed to give pupils an overview of different aspects of industry including brick construction and joinery, plumbing and gas, engineering, woodwork and surveying.
Morrison Construction assistant community skills manager Caitlin Quinn commented, "It's fantastic to be part of this wonderful event to help encourage more young women to consider a construction-related career.
"School-based initiatives like this are important to showcase the variety of career opportunities available in construction and promote greater diversity, which can only strengthen the industry."
Nikki Murray, senior lecturer in plumbing and gas, who delivered the 'Gas – it's hot stuff' seminar, told Project Scotland that, being a woman in industry herself, it is important to show that learning a trade is a viable career path for girls.
"Girls just tend not to consider it because of that stigma of 'it's a male industry'," Nikki said. "It's just about trying to spread information and get girls to consider it when they get to that stage in their schooling."
Nikki added that electrical engineering was a good example of a career in industry well suited to girls. "It's more intricate. You don't need muscles, you need brainpower; but you are working with your hands as well. I think that's an easier sell to a girl than a bricklayer."
Nikki believes that while it was not yet reflected in the apprenticeship numbers, there will be a shift as "girls are far more open to things now than they've ever been before".
She added, "I think materials are changing, mind-sets are changing, everything is changing…it's just slow. It's not going to happen overnight; we just need to keep doing events like this."
Allan Dickie, senior lecturer for construction full-time courses said that the number of girls taking on apprenticeships had "waned" in recent years but those at the college "fit in very well".
"Girls usually come in, try harder and they tend to be more mature; you get a good dynamic in the class if you've got two or three girls in it."
Allan reckons many girls are put off the idea of working in construction because of the labour intensity of many trades, so it is important to highlight the "hidden trades" which are not as labour intensive – such as electrical engineering – and that's the thinking behind the event; to promote these trades that pupils might not otherwise know are an option open to them.