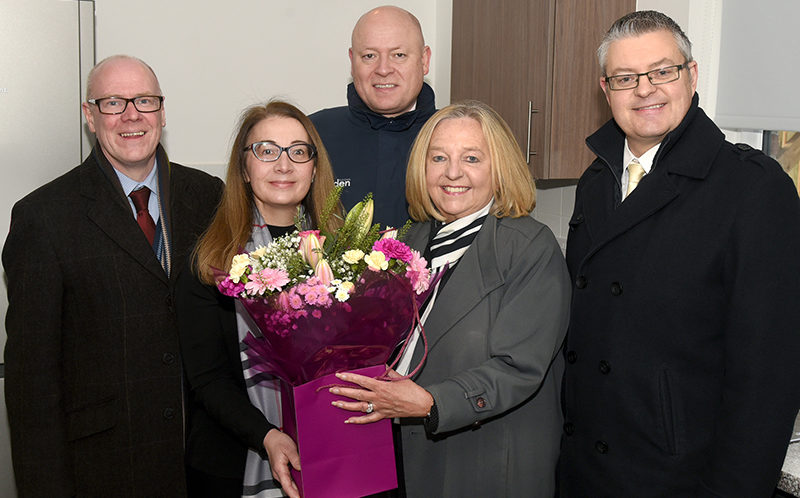 SCOTLAND'S housing minister, Kevin Stewart, has visited Slaemuir in Port Glasgow to hand over the final house of a new £5 million, 28-home development to resident Anne Deighan.
Two years ago, River Clyde Homes carried out a consultation exercise, asking residents for their views on the future of the 13 maisonette blocks in Slaemuir. The majority of owners and tenants agreed the blocks should be demolished and replaced with new homes.
The 28 homes represent the first phase. Once the next two phases are built, the overall Slaemuir development will comprise 96 homes, built in partnership with The Scottish Government and Cruden Building.
River Clyde Homes has plans to build up to 750 new homes over the next five years and the first of 'RCH+' standard, where all properties will have a common design standard.
Kevin Stewart said, "I am delighted to visit the first phase of 28 completed new homes at Slaemuir, supported by over £2 million of Scottish Government funding. They provide affordable, wheelchair adaptable and good quality social rented housing in the Port Glasgow area. I was particularly impressed by the extensive involvement of the local community in developing proposals for the regeneration of the area. This development is testament of the powerful impact of partnership working."
Jillian Moffat, chair of the River Clyde Homes Board added, "These are magnificent homes. We are committed to building new homes that are accessible and adaptable to suit the changing needs of our customers over time. All the homes built in Slaemuir meet the gold standard in secure by design and are silver level in terms of sustainability. The homes built in Slaemuir are the most energy efficient homes we have built to date. We will continue to develop our design standards to improve sustainability and energy efficiency as our plans to build up to 750 new homes in the next five years develop."
Allan Callaghan, managing director of Cruden Building commented, "We are delighted to have completed the first stage of the Slaemuir development in Port Glasgow – building 28 high quality and energy efficient new homes.  We are now in the process of building on the cleared site to providing a further 68 new homes as we replace all of the low-rise blocks and breathe new life into this area. Our collaborative approach, working with River Clyde Homes on a number of developments, has ensured that we meet the needs of the community, in terms of quality housing and the legacy that we leave on the Inverclyde area."