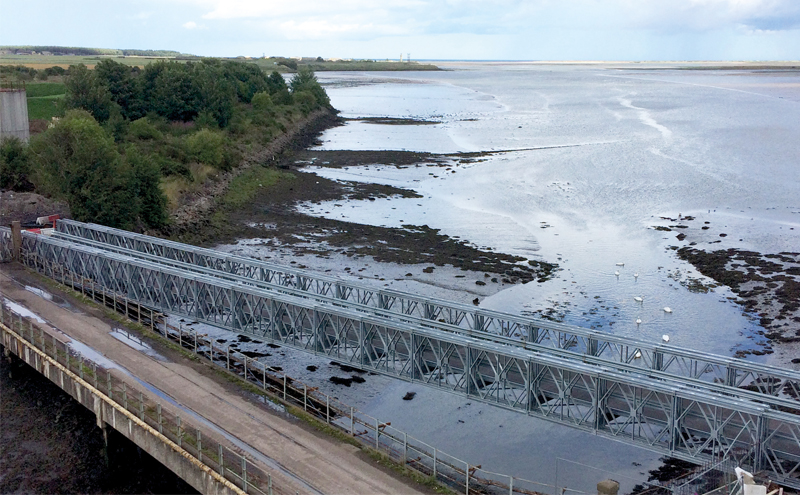 WHILE Mabey Bridge has been providing modular panel bridging for decades, the industry is only now beginning to really harness the benefits of modular construction. That's the view of Mabey Bridge head of engineering, Nick Iannetta.
Based in Lydney, Gloucester, Mabey Bridge has supplied over 500 kilometres of steel bridges to 142 countries on five continents. The firm provides solutions for a range of industries including construction, oil and gas, extractive, military and disaster relief projects.
"I think industry in general is just starting to harness the benefits of modular construction," said Nick. "Clients are now starting to change their way of thinking. Only a few years ago you had a lot of clients that would ask for a bridge to be designed to suit a particular gap; what we're now getting them to think about is adjusting the gap to suit an off-the-shelf bridge solution."
Nick explained that modular bridging could offer "low cost, quick speed and quick turnaround" compared to a bespoke "one-off" bridge solution.
"There's little more than looking up a table to see what sort of truss configuration you need of a particular span load, so you cut out all the design costs. You'll be talking somewhere in the region of 30% cheaper cost, compared to bespoke solution."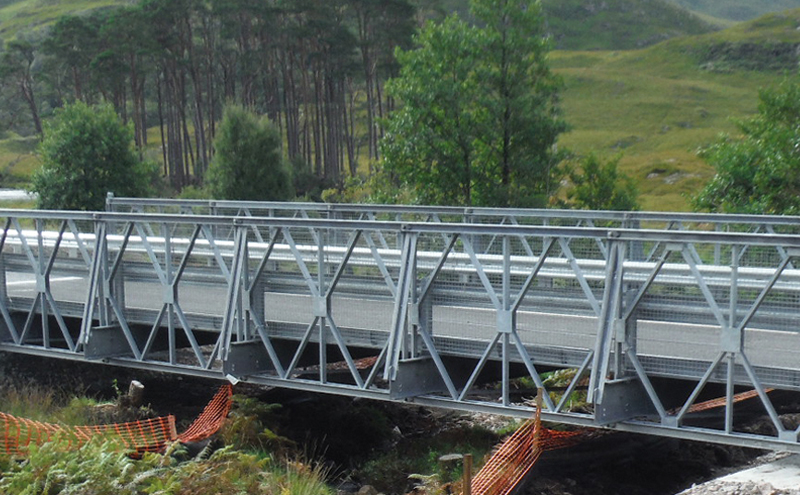 He continued, "Both bridges will still require site enabling, they'll still require ground preparation and substructure construction, so (the client) might as well do those works to suit a bridge that is designed and available now, as opposed to a bespoke solution, which requires that design, steel procurement, and fabrication as part of the delivery process."
A recent Scottish project for a two-stand bridge at a hydropower plant presented several challenges for the firm. Nick said, "It was a tight site and very remote access. You couldn't get a big crane down there and there wasn't much land take to actually launch the structure in our conventional manner.
"You like to build the bridge behind one of the abutments and then roll it out into place, and there was no way to do that, so we ended up rather cunningly doing a combination of both. We looked at doing some of the bridge with a lightweight nose so we could lift it in with a smaller crane, onto the pier and on one of the abutments and move that in place."
The client on this project was particularly concerned about the aesthetics of the site. To allay these concerns, the team at Mabey Bridge utilised BIM and VR to create a virtual bridge.
"We actually got some site pictures, we then laid some 3D models of the actual bridge onto that and were able to create a virtual reality world where the client could both look at the bridge from whatever angle they wanted, to see how it would look, and they could also, in virtual reality, walk along it," Nick explained.
"That worked really well and one of the probably lesser-known benefits of pre-engineered modular bridging is that for virtual reality, because we're using the existing CAD blocks to build the model, it took a matter of hours to create a whole virtual reality."
The challenges presented on this project are typical of many that crop up on rural projects in Scotland. Speaking on the efficiencies modular construction can provide, Nick said, "The beauty about modular steel bridges is we do all the fabrication and the difficult work in controlled environments, so the less operations you have to do onsite, the safer your project becomes. Also, when you're building in remote locations, you want to know that the components are going to fit together when they arrive onsite.
"Also, versatility and buildability; you want a vehicle to deliver the components to site piece small if needs be, you also want to be able to erect it without any large cranage, so again, where you've got these remote and difficult access sites with little space, these modular bridges are an absolute necessity.
"Durability is another factor. If you've got a bridge in a remote location then the less frequently you need to inspect and maintain it, the better."
Nick added, "It's something that we've been doing for many years and the Scottish market has been particularly good to us. We do work with the Forestry Commission and other clients and local authorities and it's a relationship that we're happy to continue with."