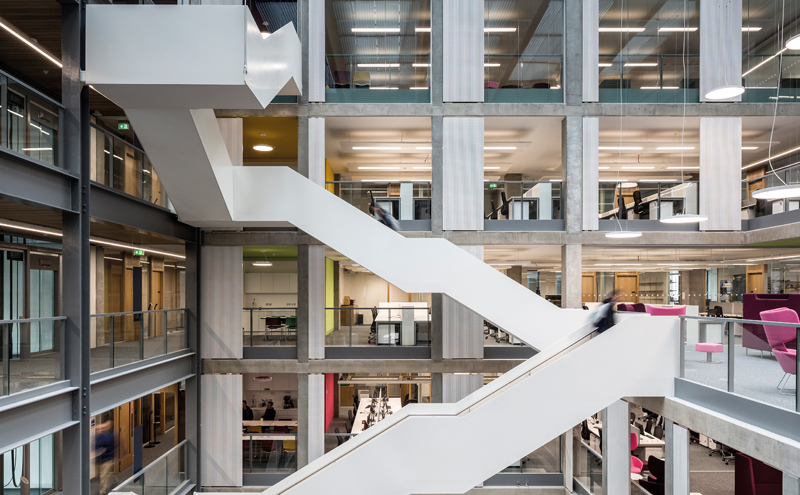 INTERIOR glass specialist Indeglas has completed its work at the University of Edinburgh's new Bayes Centre, a 9,500 sqm building which forms part of the university's Potterrow campus.
The Bayes Centre will see academics working alongside technology businesses, start-ups and 'spin out' initiatives. Features include robotics labs, office space, lecture theatres, studios and workshop facilities.
Indeglas has now completed a range of contracts worth over £840,000 on behalf of the university. They include complete glazed screen installations at the Joseph Black Building, James Clerk Maxwell Buildings, Charles Stewart House, Dalhousie Land, Chrystal MacMillan Building, Centre Building Easterbush, Minto Building and New College.
Jeanette MacIntyre, founder and MD of Indeglas said, "We are, of course, very pleased to have been selected to undertake this contract and see it as a clear indication that Indeglas is rapidly becoming the preferred supplier of a growing number of the country's top performing design teams and construction companies.
"The project at The Bayes Centre required an extremely high-performance installation, with full height, fire-rated glass screens to atrium spaces, and acoustic, frameless glass forming the frontages of a wide variety of learning and office spaces."
Indeglas is the sole UK distributor for the products of Danish-based DEKO.
The Bayes Centre was designed by Bennetts Associates. McLaughlin and Harvey is main contractor on the project.