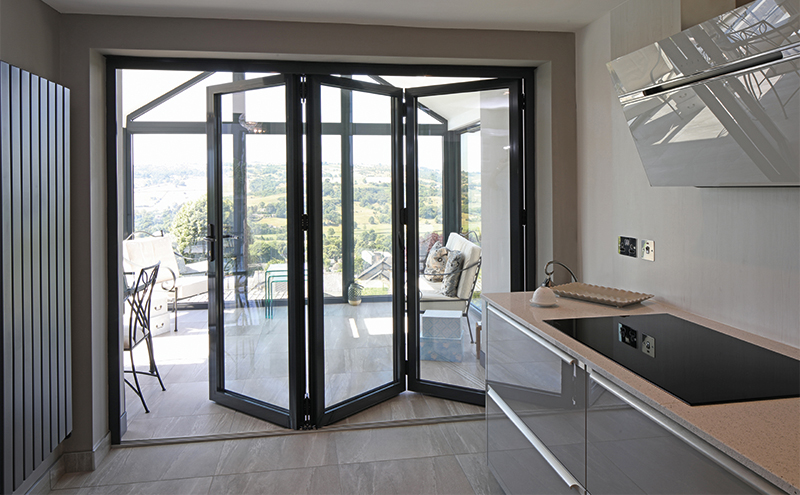 With so many different configurations to choose from, Kenny McMenemy, architectural advisor from Senior Architectural Systems, offers an overview of aluminium doors and explains how they can open up new opportunities to create homes that offer the highest standards of style and sustainability
Design choices
The term 'patio door' is often used to refer to a wide range of differing door types but the most appropriate style to choose will depend on the budget and space available. Commonly known as French doors, these simple and elegant double or single doors which open in or out, are perfect for smaller properties that require quick and easy access to the garden. Although a popular choice for traditional homes, the new generation of aluminium doors are well suited to contemporary properties. The slim frame offered by aluminium can also improve the flow of light despite the smaller dimensions of this style.
Perhaps the most popular choice is the bi-folding or folding sliding door.  The advantage of this style is that it enables a whole wall of glass to be completely opened up to create a dramatic focal point and a seamless link with the outside space. Aluminium doors also offer the additional benefits of being strong enough to support large expanses of glazing within a slim frame to maximise the sense of light and space.
Whereas bi-folds are well suited to houses, particularly those with large gardens or patio areas that can accommodate the 'fold back' of this style, sliding doors are the ideal choice for smaller properties or high-rise apartments with balconies.  Sliding doors can also make an exciting feature in new build properties as they can be designed as 'pocket doors' so that they slide into the wall cavity and provide an even wider and visually cleaner opening.
With the ability to create the full range of standard RAL colours or specific colours for a more bespoke solution, powder coated aluminium frames can also make a real design statement and positively contribute to boosting the 'kerb appeal' of  a development.
Energy-targets
All buildings lose heat through windows and doors but the amount of energy that is lost can vary significantly depending on the type of system used and here, aluminium systems can really have the edge.
Specifying doors with double or even triple-glazing is an obvious starting point but choosing a system that contains a thermal barrier is where the real energy savings can be made. One of the major benefits of aluminium doors is the enhanced thermal performance and low U-values that they offer.
Traditionally the material of choice for thermal barriers has been the low thermal conductor polyamide but new product innovations, such as Senior's new PURe aluminium door system which incorporates a thermal barrier made from expanded polyurethane foam, have been developed to offer even greater energy efficiency.
As well as helping to create an interior environment that is both comfortable and more affordable to heat, the specification of aluminium doors that offer improved thermal performance such as Senior's patented PURe range,  can also have wider benefits, specifically to scheme's overall carbon footprint. In the case of commercial developments, being able to reduce  carbon calculations through the specification of low U-value doors can give greater design flexibility and allow for additional monetary savings to be made to the  overall build cost by reducing the need for other, often more expensive, sustainable features such as photovoltaic roof panels or under floor insulation. Aluminium can also be recycled endlessly, making it the ideal choice for projects where sustainable construction targets are paramount.
Unlocking the potential of aluminium
Whether a new-build house, high-rise apartment scheme or refurbishment project, patio doors can be used to create aspirational homes that embrace the popular trend of open-plan living whilst ensuring that the traditional requirements of quality, security and efficiency are successfully met.
The range of styles and configurations of aluminium doors available are giving housebuilders and developers the flexibility they need to be able to design homes that not only look good but that provide long-term benefits for residents.
As one of the most popular choices of building material for the commercial sector, aluminium is now proving it's worth its mettle in the residential market.