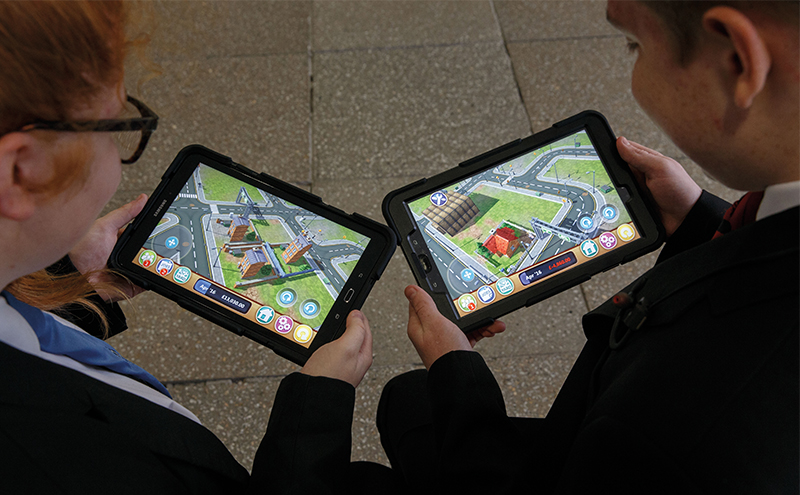 A downloadable game that challenges users to run their own construction company has been tipped to become a valuable tool in the battle to encourage youngsters to consider careers in the sector.
Construction Manager has been developed by academics at City of Glasgow College. The game is funded by CITB and supported by a range of partners including Construction Scotland, Construction Scotland Innovation Centre, Scottish Contractors Group, Learn Direct and Build, Junction-18 and the Scottish Institute of Innovation and Knowledge Exchange.
Gamers must start their own business from scratch and are faced with a range of decisions relating to matters such as staff training and recruitment, health and safety and the sourcing of materials. Those who fail to balance the books run the risk of bankruptcy, while the company's reputation is determined by a range of factors.
Douglas Morrison, associate director of innovation and STEM at City of Glasgow College and project sponsor for the game, spoke to Project Scotland at the recent Skills Scotland show in Glasgow, where the game was officially launched.
He said, "Construction Manager is an educational game designed to raise awareness of careers in construction. It's designed to present a useful tool that industry ambassadors and educators can use to engage young people in conversations around the construction industry. In the game, users start up their own small to medium enterprise. They'll choose to start from a variety of different craft skills; they might be a stonemason or roofer or bricklayer. The aim is to grow the company into a large, multi-skilled company, and to do so by adopting a range of positive practices around having a diverse workforce, investing in staff training and health and safety, buying ethically and sustainably-sourced materials, and being physically responsible.
"Users will also build their own city. The city they build actually reflects their performance as a company owner. If, for example, they are the ethical company owner who looks after staff, invests in health and safety training and buys ethically-sourced materials, their city will be full of zoos and schools. If they perform in the opposite direction, they'll be building things like swamps and prisons. This shows the wide range of influences that do have to be considered when you're a small business owner and the consequences of making what we would deem to be negative choices in relation to running the business."
Douglas said feedback on the game from both users and the industry at large has been wholly positive. Work is already underway on future iterations of the game, which is available to download for free on Windows, iOS and Android devices.
"People who are playing the game have, by and large, really enjoyed it," Douglas added. "They see it as something that's fun; they're very quickly invested in their own company and they want it to do well. Certainly early on in the game there's a continuous threat of bankruptcy, which really engages them.
"The feedback we've had from industry is that they're absolutely delighted to finally have a tool they can go out and engage young people with. I think at times it can be very difficult to accurately communicate what the industry can be – the breadth and depth of it and the opportunities that exist therein. The game itself is a fantastic icebreaker where industrial ambassadors can go in, engage a group of young students or schoolchildren and then follow up with more meaningful conversations around the industry.
"The game is predominantly aimed at 14-16 year-olds. We're looking to engage young people who are starting to think about where their future career may lie. We're very keen to present the construction industry as a career of choice. We've also recognised the value in working with primary school children, college and university aged students and even just the general gaming community, who have been very positive about Construction Manager as an educational game that is actually fun to play."
Douglas is confident the game will help to highlight the growing use of technology within the sector and the fact that a wide range of potential careers are available. "The construction industry generally just now is going through a revolution," he explained. "The rate of adoption of digital and technological solutions is faster than it's ever been before."
For more information, visit www.constructionmanagergame.com