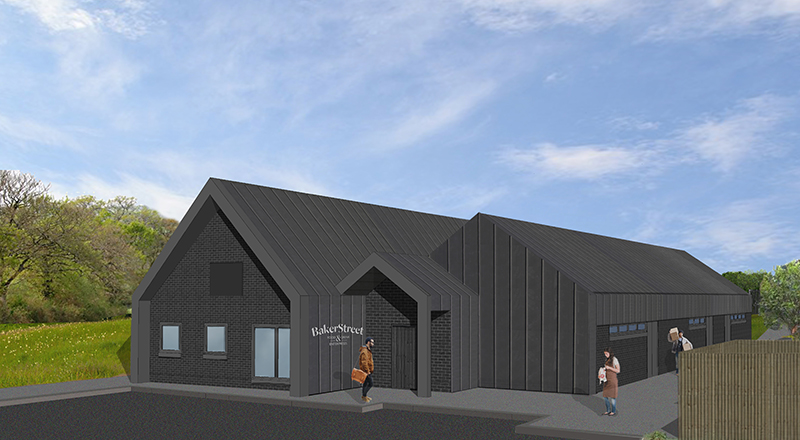 INVERCLYDE contractor Stewart and Shields has landed a £1.6 million design and build contract for a new food and drink incubator in Greenock.
The contract was awarded by Riverside Inverclyde (Ri), the organisation tasked with delivering the economic redevelopment of Inverclyde. Baker Street Food & Drink Enterprises will be built on land recently cleared at the corner of Greenock's Baker Street and Drumfrochar Road. It is the second phase of a £2.5 million road realignment project being delivered by Ri for Inverclyde Council.
The Baker Street project will see the development of six manufacturing units ranging from 30 to 70 square metres. Aimed at attracting the growth of SME food and drink firms, the building will also include shared office space, storage unit and boardroom facilities for tenants, as well as shower and change areas.
Ri will provide a business growth programme to support the tenants, and seek match-funding support for machinery and equipment.
Stewart & Shields has its headquarters in Helensburgh and a further site in Port Glasgow. The company is run by the founder's grandsons, Richard and Mark Shields. Mark said, "We value greatly this further opportunity to work with Ri in delivering this exciting new project."
Andrew Bowman, head of business investment at Ri added, "Ri has targeted the food and drink sector as a fantastic growth opportunity for Inverclyde. We have started to promote this pioneering facility nationally and are already seeing interest in the Baker Street hub and all of the available support for the eventual tenants.
"The incubator offers Inverclyde some exciting opportunities, not least the ability to grow the number of food and drink producers in the area alongside the associated jobs. We hope to see some of the early participants grow to become great success stories in their own right."
The design team for the Baker Street project comprises Allied surveyors, Assist Design Architecture, structural engineers Will Rudd Davidson, mechanical engineering firm Rybka and principle design by Brown and Wallace.