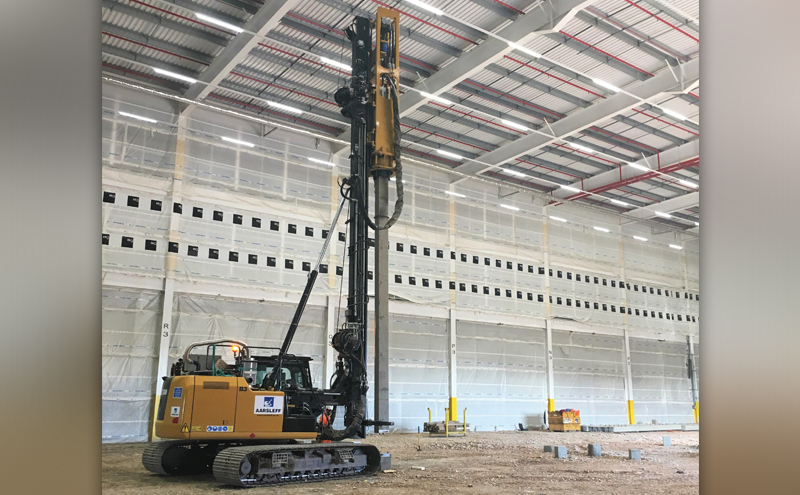 Jody Parkin was promoted to the role of operations director at Aarsleff Ground Engineering UK earlier this year.  He's been involved in a number of major projects throughout his career and is now helping to drive forward Aarsleff's plans for growth. He recently told Project Scotland about some of the firm's latest innovations, challenging case studies and desire to gain more of a foothold in the geotechnical sector north of the border.
Q) WHAT CAN YOU TELL US ABOUT YOUR PLANS FOR HELPING TO GROW THE BUSINESS?
A) We are only looking at modest growth year on year, bolstering our team and fleet to deliver high quality geotechnical solutions to our clients. We have a well-established driven piling business which consistently installs over 500,000 metres of precast pile each year, our retaining structures department is growing in strength with some impressive sheet pile and king post wall alternatives which are proving attractive, as are our soil nailed and anchored walls.
Our focus is always on our clients' needs and how we can fulfil them to everyone's advantage.
Q) WHAT'S YOUR BACKGROUND?
A) I was based at Cementation Skanska working initially from the northern region and Ireland but more focused on the London market during the Olympic development through to the end of Crossrail. At this point I returned north as the operations manager, facilitating a team running from the Midlands to the border with a fantastic opportunity managing works in Sweden.
Having had such a good variety of different opportunities, and managing so many different disciplines has enabled me to fit nicely in to Aarsleff and also help bring further capacity and knowledge to the group.
Q) WHAT ARE SOME OF THE MOST CHALLENGING/HIGH PROFILE PROJECTS AARSLEFF HAS BEEN INVOLVED IN THIS YEAR?
A) 2018 has been a fantastic year for us and allowed us to undertake some really exciting projects. One of the themes has been piling inside of buildings, where we've had a couple of existing warehouses requiring modifications. For most of these we have installed driven precast piles, which have been supplemented with mini-piles where access or headroom has been too tight. One of the most exciting was installing precast and sectional steel tubes in one of London's most high-profile entertainment venues. We pushed the boundaries both logistically and engineering-wise to deliver a scheme which had not been considered by other competitors and kept the venue operational throughout.
We have also had the chance to showcase multi-discipline solutions on single projects; whether it be a school in Yorkshire where we consolidated old mining works, installed a soil nailed wall and bearing piles; a new shopping centre in Rochdale with king post walls, precast piling, CFA and self-drill piles, or a new distribution centre where again we resolved all their geotechnical problems from under one roof.
Q) WHAT CAN YOU TELL US ABOUT THE FIRM'S MINI-PILING CAPABILITIES?
A) We have a flexible fleet of rigs capable of accessing most sites and installing a magnitude of diameters and disciplines along with some very experienced employees, who have worked in this industry for decades.
Our recent investment focus has been around sectional flight auger for restricted access work. We feel this is a market we can give a lot to and enhance our business.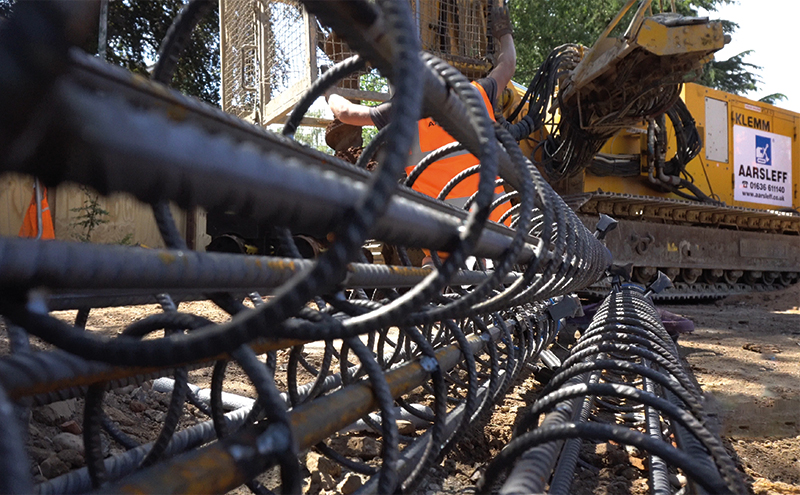 Q) HOW IMPORTANT IS THE SCOTTISH MARKET TO YOU?
A) The Scottish market is an area that we currently don't service as much as we'd like to. We have an alliance with Northern Piling whom we offer a lot of support to and often joint venture piling and ground beams projects with them, but we are very interested in offering our other solutions to the market.
Q) WHAT CAN AARSLEFF OFFER IN THE ROADS AND BRIDGES SECTORS?
A) We are always keen to look at highways projects as we are in a unique situation in the piling industry where we can offer sheet piling and anchoring for retaining structures, raked precast piles for bridge abutments and embankment stabilisation, and soil nailed walls to support new structures as well as refurbishment and upgrading of existing structures.
There are a number of exciting opportunities coming up in the New Year that we are working closely with contractors and following avidly. We have had a couple of successes this year with works on the A17, installing sheet piles for embankment stabilisation and the A33 Reading where we installed precast piles; we hope this trend continues.
Q) HOW IMPORTANT IS IT TO BE CONSTANTLY INNOVATING AND OFFERING NEW SOLUTIONS TO CLIENTS?
A) In today's market, the practice of innovation isn't just about creating new products. Although that can be important too, it's also about discovering completely new markets that were previously unknown and therefore untouched customer needs.
Diversifying our product/service portfolio allows us to future-proof the business toward a state of competitiveness – and exceed client expectations by going above and beyond their needs and requirements. Simply having more solutions satisfies more of our clients' problems.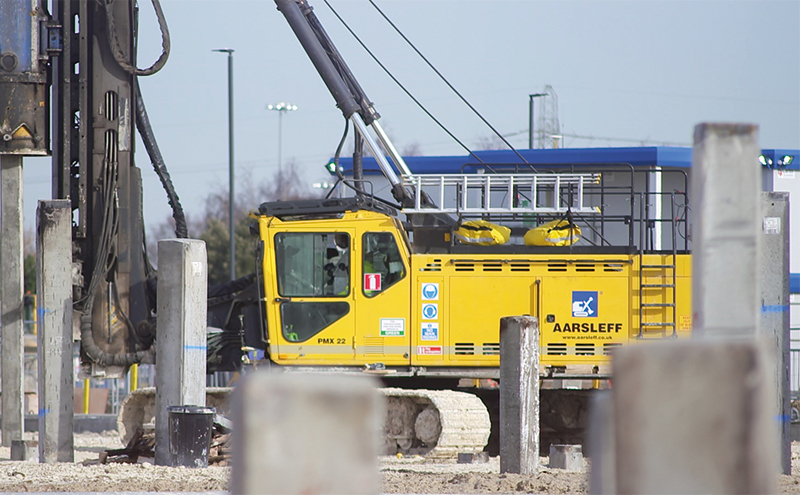 Q) WHAT ARE THE ADVANTAGES OF EARLY ENGAGEMENT ON A PROJECT?
A) It is part of our approach to engage with our clients as early as possible in their development process to create engineered solutions that offer real cost savings for their projects. Engaging early and offering our skill and expertise helps our clients ensure the works can get off to an efficient site start.
Relationship building is key to Aarsleff – ultimately you work with the people you like. We're not naïve, there are many other companies who can offer solutions we offer, so it's important they choose to work with us based on trust and relationship.
Q) FINALLY, LOOKING AHEAD TO 2019, WHAT CAN WE EXPECT FROM AARSLEFF NEXT YEAR?
A) We still have a few more investments in mind between now and March, which will seriously move us forward in our current and new offerings. Some of these are still under negotiation so I wouldn't like to give too much away.
We have high hopes of a large infrastructure scheme where, through innovation and collaboration with our European colleagues, we will be making an offering no other piling contractor can. We have a major multi-disciplinary scheme due to start in the next month or so to run the course of 2019. We're working hard and hopeful of a greater presence in Scotland.