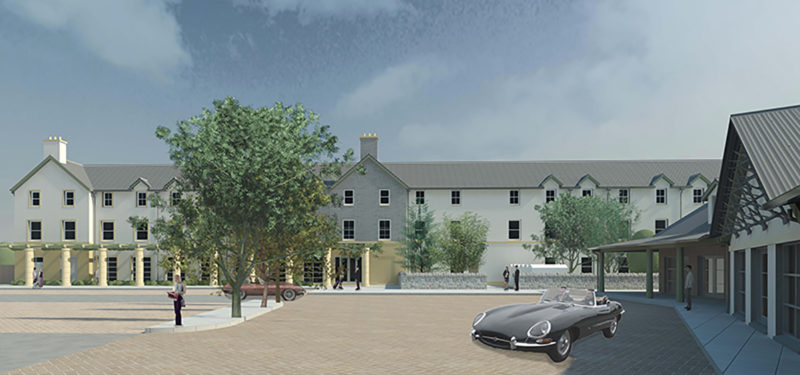 HIGHLAND Council has given the green light to proposals for a new £10 million pound hotel and retail/food village at the Tomatin junction on the A9.
The project, which has been tipped to create over 100 new jobs and provide a showcase for local produce, will include a 99-bedroom hotel, farm shop and 200-seater restaurant, drive-through bakery and food outlet, as well as four retail units and a fuel filling station.
The site was once occupied by the Freeburn Hotel, which ceased trading in the 1960s, and later became a Little Chef before being demolished in 2008.
Councillor Duncan Macpherson of Highland Council said, "The development at Tomatin is a welcome addition to the Highland hospitality offering and will create full-time, part-time and managerial jobs in both retail and hospitality. It will fit perfectly with the new dualling of the A9 from Perth to Inverness and be a welcome stop for travellers on the A9 going both north and south.
"I look forward to Tomatin Trading Company showcasing the very best in food and drink, local produce and hand-made crafts that the Highlands has to offer. They will be supporting the rural economy and be a most welcome business investment close to Inverness."
Ruaraidh MacNeil from Highlands and Islands Enterprise added, "The approval of planning permission is a key milestone in the development of this important project. The proposal for Tomatin is well placed to deliver significant benefits for visitors and locals alike, while offering supply chain opportunities for local producers, particularly in the important food and drink sector. I wish them every success with this venture."
Tomatin Trading Company MD William Frame said, "Securing planning permission is an important step forward for Tomatin and I am confident that our hotel and retail/food village will be a valuable addition to the local area and the Tomatin Trading Company will be part of the countries renaissance of all things Highland. I have owned the site since 2005 and am proud to be playing my part in meeting the demand for quality, affordable hotel rooms within close proximity of both Aviemore and Inverness and the wide range of attractions on offer in the Highlands and Islands.
"We are also committed to supporting the area by showcasing the best of the region not only in the retail outlets but also through the locally sourced produce in the restaurant and farm shop which will represent the best of Scottish food and drink."