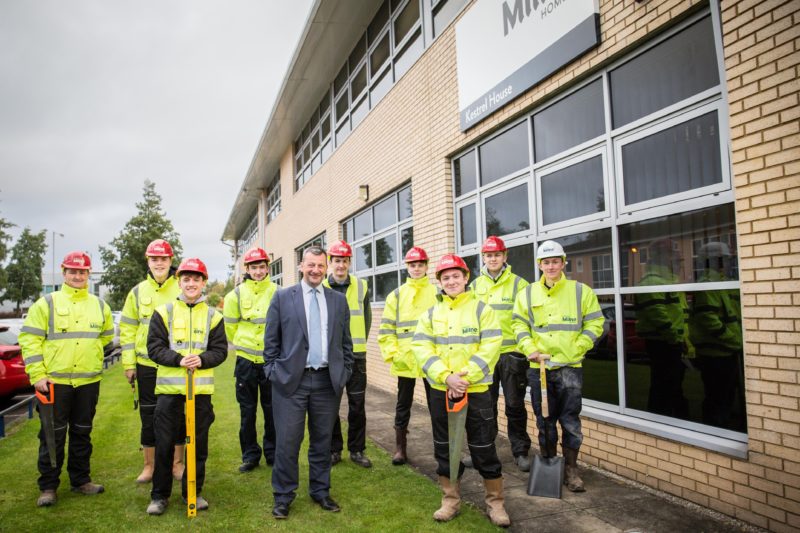 STEWART Milne Group has announced the recruitment of nine apprentices into its central Scotland homes division. With six apprentices recently appointed in north Scotland, the housebuilder and timber systems manufacturer now has 45 modern apprentices throughout the business.
The group said the latest intake is to help tackle a shortage of tradespeople as it takes on eight new developments in the next six months. In East Lothian, four new projects delivering 450 new homes in total will get underway, while a further four developments are planned in central and west Scotland.
Eight of the new apprentices are training in a variety of trades including electrical, plumbing, joinery and bricklaying, while one is joining the design team as a trainee architect.
Bryan Galloway, construction director for Stewart Milne Homes said, "Latest statistics reveal that one in 10 jobs in Britain is in construction and we simply don't have enough skilled people. This growing gap, exacerbated by the ageing workforce, is holding back growth and pushing up costs. Demand for subcontractors is soaring and the industry needs to work more collaboratively to attract young people and then help them develop the necessary skills to pursue a rewarding career in construction. At Stewart Milne we are committed to working with our subcontractors to provide the best environment for apprentices which meets our needs, those of our sub-contractors and ultimately the industry."
Stewart Milne Group's 45 apprentices currently include civil engineers, quantity surveyors and architectural technicians as well as joiners, bricklayers, electricians, plumbers and painters.
Opportunities to join the 2019 intake will open later this year.