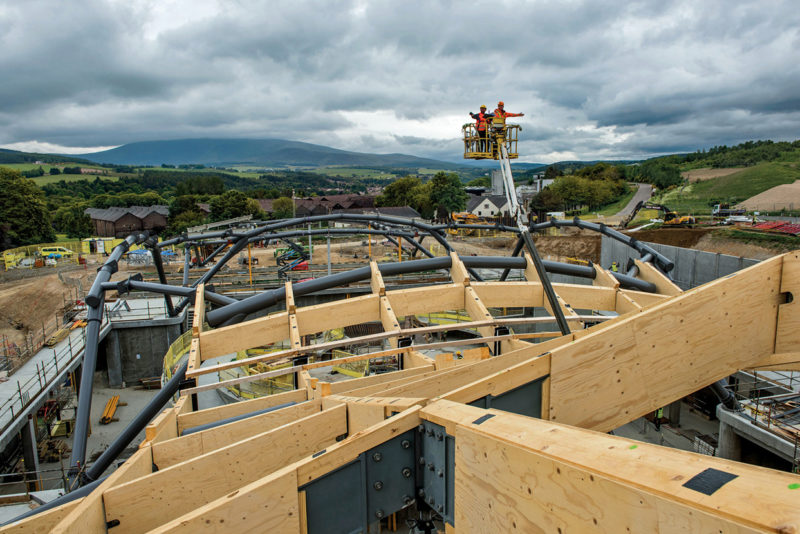 Architects, designers and others specifying building materials for construction projects are increasingly turning to timber as a key element of the building design. Alun Watkins, executive director, PEFC UK explains more
ENGINEERED timber products such as cross laminated timber (CLT) and glulam are giving architects and building designers a sustainable alternative to build strong and stable structures and bring a striking architectural dimension to modern building design.
Glulam and CLT are predominantly made from PEFC-certified Douglas Fir, Pine or Spruce and provide a low carbon building solution. Across the world, the international design community is embracing CLT to deliver high profile projects from homes, schools and hotels to restaurants, theatres and supermarkets. PEFC-certified timber has been at the heart of some of the UK's groundbreaking 'tall timber' buildings, including Stadthaus Murray Grove and Dalston Lane – the largest timber building in the world at the time of its construction.
PEFC is an international non-profit, non-governmental organisation dedicated to promoting sustainable forest management through independent third-party certification. It works by endorsing national forest certification systems and has recognised certification systems in more than 40 countries.
Today over half a million forest owners manage more than 300 million hectares of forests according to PEFC's sustainability benchmarks, making PEFC the world's largest forest and wood product certification system. To date, almost 20,000 companies have obtained PEFC Chain of Custody certification.
The new Macallan Distillery – built on the Easter Elchies estate in Speyside – has been hailed as one of the most influential buildings in the UK and an exemplar use of PEFC-certified timber. PEFC-certified main contractor Robertson delivered the complex architectural design working with 25 subcontractors to bring the flagship £140 million distillery and visitor experience to life.
The new building has an undulating timber roof structure that is one of the most complicated timber roof structures in the world, comprising 380,000 individual components. The roof comprises 1,750 PEFC-certified glulam timber beams, making up a 3x3m grid that carries 2,500 cassettes that support a natural meadow green roof. It took almost 12 months of work, using collaborative design and bespoke parametric modelling software, to define the complex geometry, and realise the fluidity of the structure.
The timber elements were manufactured in Austria by Wiehag using high-precision, computer-controlled technology. There were over 5,000 lifts, using four mobile cranes, to install the roof structure.