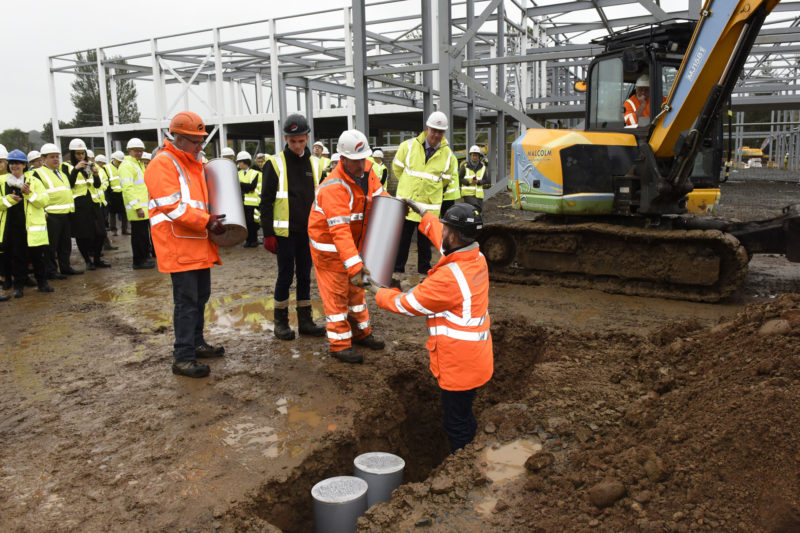 SCOTLAND'S Deputy First Minister John Swinney has laid the foundation stone for the "extraordinary" £68 million Barony Campus in Cumnock, East Ayrshire.
The campus, which is being built by Morrison Construction, has been tipped to offer "unparalleled" opportunities to youngsters and the local community.
Councillor Douglas Reid, Leader of East Ayrshire Council said, "This is easily the biggest capital investment we have ever undertaken and the Barony Campus will be nothing short of extraordinary. It will offer an up-to-the-minute learning and teaching environment to enable every child and young person to reach their full potential, regardless of their background, as well as giving the local community access to a host of superb sports, leisure, educational and social facilities."
Deputy First Minister John Swinney said, "Thanks to the vision and imagination of East Ayrshire Council and Morrison Construction, this campus will be the focus for the hopes and aspirations of our young people, bringing together all aspects their learning journey in truly inclusive and integrated learning environment. The innovation and design fits perfectly with our vision for education into the future and I congratulate the council on what promises to be an outstanding new facility for all.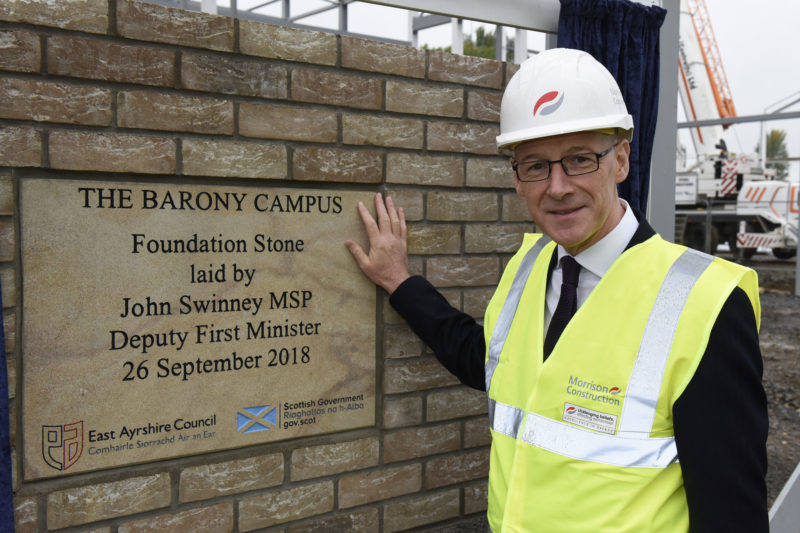 "The Scottish Government's £1.8 billion Schools for the Future programme will see 117 schools replaced or refurbished by 2020. I am extremely pleased that as part of this we have been able to contribute £16.7 million towards the £90 million construction and refurbishment projects at Hurlford, Whatriggs, Muirkirk Primary Schools and the Barony Campus."
Eddie Robertson, Morrison Construction's MD for Central Scotland commented, "The steel frame installation, underway since the start of the month, is beginning to give shape to the first-class facilities we will deliver for the Cumnock and Auchinleck communities. The car park is nearing completion and the works for the 3G pitches are well underway. 'We will continue working hard with all stakeholders involved to make sure we continue our excellent progress and deliver a first-class facility."
Adam McGhee, partner at Sheppard Robson who designed the facility said, "The Barony Campus will set a new standard for education that reflects the integration of high academic ambition with enhanced sporting and learning facilities for the local community."
The campus will comprise four new establishments:
• Robert Burns Academy, (an amalgamation of Auchinleck and Cumnock Academies)
• Lochnorris Primary School (welcoming pupils from Barshare and Greenmill Primary Schools)
• Hillside School (purpose-built for young people with complex additional needs)
• Cherry Trees Early Childhood Centre (to deliver the new early years arrangements for children from Barshare and Greenmill Early Childhood Centres).