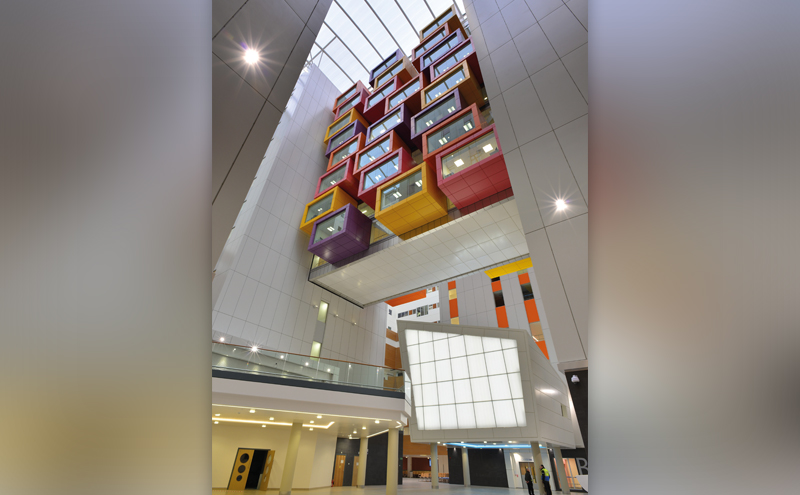 THE future of commercial ceiling and wall systems could lie in offsite manufacturing.
That's the view of Armstrong Ceiling Solutions. The global company, which has been established for well over a century, offers a wide portfolio of suspended ceiling and wall systems and sells mainly into the education, health and commercial sectors.
Project Scotland recently spoke with specification manager for Scotland and northeast England, Ian Young, who said the method of construction was well suited to a number of the company's products.
"I was at a conference last week and offsite construction seemed to be at the forefront," he said.
"You might say to yourself, 'How can suspended ceilings be an offsite product?' but you take a drywall grid system for instance; if it's installed round the perimeters at standard downstand or upstand-type detail, these potentially can be produced at an early stage and then can be installed, obviously saving a bit of time."
Ian explained that Armstrong's DGS range is basically a support grid system for MF plasterboard. The range was initially focused on Scotland but has proven popular and is now moving throughout the UK.
Using Armstrong's canopy-type ceiling systems as an example, Ian explained that the firm manufactures a number of products that are produced in a factory, boxed up and sent to site to be installed by the fixer.
He went on to say that he had noticed a shift towards these canopy systems, away from wall-to-wall systems, as they could be considered more aesthetically pleasing.
He continued, "We've moved with the times. Say ten years ago, we only had maybe one system like that; we've now got a catalogue of about probably 20 or thirty island systems in the range.
"We have a wide portfolio of products; namely what we describe as wet felt, which is our core business of product. There are soft fibre products, which have got either a rockwool or a glasswool substrate.
"Metal products, timber products and the suspension systems go with that. The one that's known in the industry is a product called Dune, which is a white sand faced product and we've just introduced the fifth generation."
With high profile projects north of the border in recent years including the Queen Elizabeth University Hospital in Glasgow, Portobello High School in Edinburgh, Scottish Warblinded's Hawkhead Centre in Paisley, and most recently Balloch Campus, Ian is in no doubt of the buoyancy of the Scottish market.
"It's a very developed market; pro rata, we're equal to the rest of the UK," he said.
Ian also acknowledged that there is a lot of product going to the market, which means more potential waste, so Armstrong has developed two recycling programmes in response to this – an EOL (end of life) scheme and an offcut recycling scheme.
With EOL, older ceiling tiles that would otherwise be sent to landfill are recycled at the company's Gateshead production plant, while off-cut sees contractors return excess material from new ceiling tiles to be recycled rather than sent to landfill.