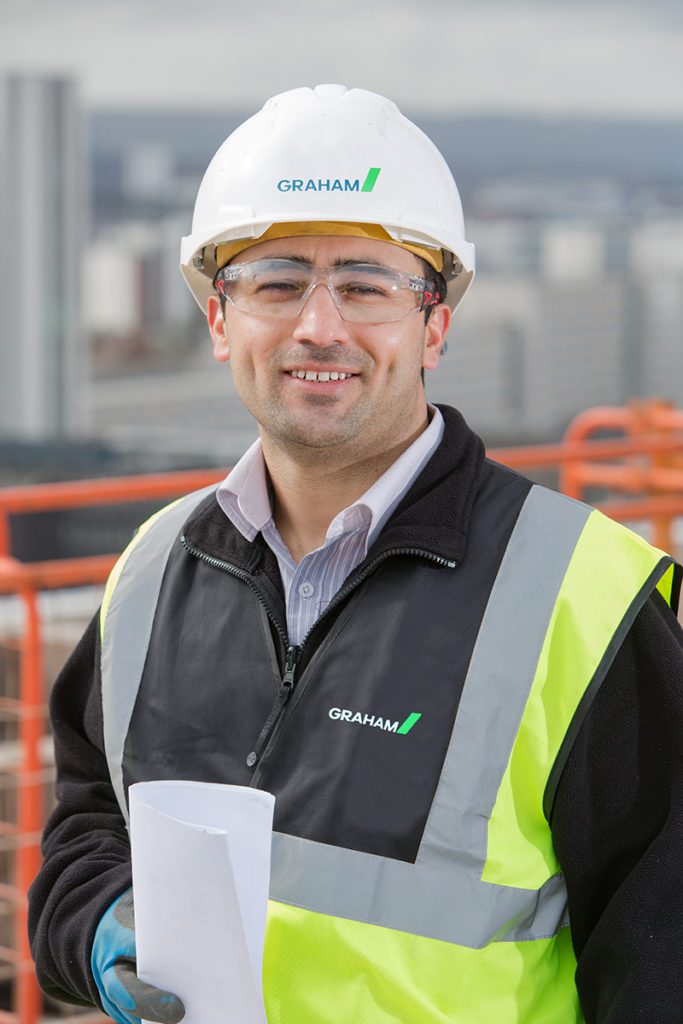 A Glasgow-based apprentice who moved to the UK as a refugee from Afghanistan has been nominated for a national apprenticeship award.
25-year-old Graham Construction trainee, Shams Rahimi, has been named one of 12 finalists at the CITB Apprenticeship Awards. Shams moved to the UK alone in 2011 at the age of 17 and walked from his accommodation to a nearby Graham site in Govan to ask for an interview.
Shams is currently working as a trainee engineer at Graham's Scotway House student accommodation project in Partick, and is now studying an undergraduate degree in civil engineering at Heriot Watt University through the Graduate Apprenticeship Scheme.
The CITB Apprenticeship Awards seek to recognise apprentices from all trades across Scotland, England and Wales, and showcase achievements made while gaining their qualifications. The winner will be announced in London on November 1.
Shams, who told Project Scotland about his journey earlier in the year, commented on the nomination, "I'm really grateful to be shortlisted at the CITB Apprenticeship Awards. It's great to be named as one of 12 apprentices across the UK – I can't quite believe it.
"Before starting at Graham I didn't have any construction experience but through working on site and learning from experienced colleagues, I've picked up fast and enjoyed my time within the company.
"The hands-on experience that an apprenticeship offers has really allowed me to develop skills and training that has enhanced my university studies. It's also helped me to grow in confidence in a working environment and build on relationships which will support my future at Graham."
Bob Kenney, site manager at Graham, added, "A massive well done to Shams on the CITB Apprenticeship Awards. To be named one of the 12 best apprentices across the UK is quite an accomplishment and we wish him all the best on the night.
"Shams has taken full advantage of every opportunity available to him and has worked extremely hard to get where he is today. He sets a great example to all future apprentices and we are honoured to be able to celebrate his successes with him."